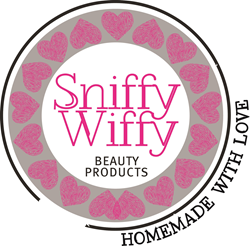 One of the best emerging product businesses in the UK
(PRWEB UK) 18 December 2014
"Sensible way forward for breast examination…" were the words tweeted by Stephen Fry a mere 2 hours after the launch of http://www.sniffywiffy.com – a new brand described by UK Startups as "one of the best emerging product businesses in the UK".
Sniffy Wiffy – 'a small company with a big mission' – aims to bring the fight against breast and testicular cancer into Britain's bathrooms. They offer handmade body scrubs and lotions with unique labelling, outlining the various steps involved in performing self-examinations to detect any possible early signs of cancer.
On hearing that a good time to perform breast checks is when skin is slightly slippery, such as when applying body lotion, mum-of-two, Sarah Parkins, aged 33, had somewhat of a 'lightbulb' moment and decided to create a brand that united health and beauty in an innovative, forward-thinking way. None of the products contain more than 5 ingredients and all are made by the founder herself. Customers can tailor-make their products online, choosing from more than 20 different 'wiffs'. Best of all, a proportion of all profits are donated to the breast cancer charity CoppaFeel!
"In this way, a simple tub of body lotion becomes a pampering experience, an educational tool and a source of funds for charity. As well as encouraging women of all ages to check their breasts and raise money for charity, I wanted to do my bit to remove the incredible amount of stigma and embarrassment that sadly still surrounds the issue of breast cancer – and indeed cancer affecting any intimate body part. This has led to the development of a male grooming range centred around the slogan 'only fools don't check their balls' – a slightly risqué choice of words but with the overriding aim of bringing some much-needed attention to this common male cancer and encouraging men to self-check". Sniffy Wiffy donate to the charity BallBoys from the sale of every male product.
With early detection being vital in the fight against cancer, Sniffy Wiffy hope that their range of products could have astounding results. "I want the current generation to start checking themselves and the next generation to grow up with the knowledge that this is all simply part of a normal healthy beauty routine. As a mum to two young children – and statistics as they are - I personally feel a strong sense of responsibility to take any steps I can to sniff out any early signs of breast cancer that may rear their ugly head. I want others to be able to do the same with ease and the means by which to do so."
In the few months since launch, Sniffy Wiffy has been crowned winner of the 'I Bring' competition at the Festival of Female Entrepreneurs, hosted by Women Outside the Box, who described the company as having "a brilliant name, a marvellous mission, financially savvy and totally aligned to today". The idea has also been described as "brilliant" by CEO of Ann Summers, Jacqueline Gold, as she awarded Sniffy Wiffy the 'Women in Business' award – a weekly twitter competition.
If you would like to help Sniffy Wiffy normalise the whole concept of self-examination, they can be sniffed out at http://www.sniffywiffy.com, facebook.com/sniffywiffy or on twitter @sniffywiffy.