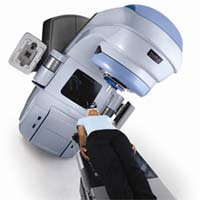 Pulmonary function declined from baseline to after surgery and declined still further after IMRT.
Raleigh, NC (PRWEB) December 17, 2014
The authors of a new study on Intensity Modulated Radiation Therapy (IMRT) for mesothelioma say the therapy can improve survival, but the price may be lung function. Surviving Mesothelioma has just posted the story on its website. Click here to read it now.
Researchers at MD Anderson Cancer Center in Houston and Princeton Radiation Oncology in New Jersey studied 24 mesothelioma patients who had IMRT after surgery between 2009 and 2013.
"Pulmonary function declined from baseline to after surgery and declined still further after IMRT," writes William W. Chance, MD, a radiation oncologist with MD Anderson.
Despite the negative impact on lung function, IMRT did appear to prolong survival. The biggest impact was seen in people who had the lung-sparing pleurectomy/decortication surgery.
"Mesothelioma treatment is almost always multi-modal, which is why we think it is especially important for patients and their families to fully understand the risks and benefits of each type of treatment, including IMRT," says Alex Strauss, Surviving Mesothelioma's Managing Editor.
To read the study results, including the survival statistics for the IMRT patients, see Radiation Treatment May Worsen Lung Function in Mesothelioma, now available on the Surviving Mesothelioma website.
Chance, WW et al, "Hemithoracic Intensity Modulated Radiation Therapy after Pleurectomy/Decortication for Malignant Pleural Mesothelioma: Toxicity, Patters of Failure, and a Matched Survival Analysis", October 25, 2014, International Journal of Radiation Oncology, Biology, Physics, Epub ahead of print, http://www.redjournal.org/article/S0360-3016%2814%2904050-4/abstract
For nearly ten years, Surviving Mesothelioma has brought readers the most important and ground-breaking news on the causes, diagnosis and treatment of mesothelioma. All Surviving Mesothelioma news is gathered and reported directly from the peer-reviewed medical literature. Written for patients and their loved ones, Surviving Mesothelioma news helps families make more informed decisions.