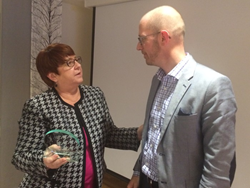 Duluth, GA (PRWEB) December 17, 2014
While in Sweden, the members of the Chamber visited several other Swedish companies with a strong presence in Gwinnett, such as Ericsson, Hexagon, Partner Tech and Mölnlycke Health Care. The Chamber members' visit began with a dinner at the American Embassy in Stockholm, where Ambassador Mark Brzezinski entertained guests as they discussed their strategy to build links between Georgia and Sweden.
The Qmatic management team was pleased to have the Chamber members take a tour of its headquarters and factory where all Qmatic products are assembled and distributed globally. The delegation was also given a demonstration of Qmatic's Customer Experience solutions.
Over the past year, Qmatic's presence in the state of Georgia has increased significantly. Contributing to this increase is the partnership between Qmatic and the Georgia Department of Driver Services (DDS). DDS is focused on bringing more convenience and efficiency to the licensing process, and this partnership with Qmatic serves that mission well.
About The Gwinnett Chamber of Commerce
The mission of the Gwinnett Chamber is to strengthen existing businesses, facilitate the growth of quality job opportunities, and enrich the community's quality of life.
The Gwinnett Chamber serves over 2,000 members throughout metro Atlanta by delivering pertinent and useful programs that strengthen and connect businesses locally, regionally, and globally. The Gwinnett Chamber uses its strategic marketing and communications capabilities to support its members, promote its programs, and enhance economic development efforts.
The Gwinnett Chamber supports community development efforts that enrich Gwinnett's quality of life and quality of place. The Chamber also facilitates efforts to develop, attract, and retain world-class entrepreneurial and community leadership talent.
About Qmatic
Qmatic leads the way in maximizing face-to-face customer touch point opportunities. Qmatic's solutions integrate the virtual/on-line and the real world, to help generate a seamless customer experience. With leading positions in Finance, Retail, Healthcare and Public sectors, Qmatic offers a global footprint, operating in over 120 countries through subsidiaries and partner network.