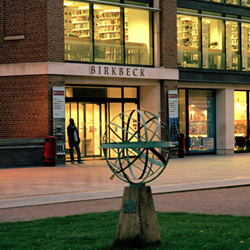 This is a strong result for Birkbeck - Professor David Latchman, CBE, Master of Birkbeck
(PRWEB UK) 18 December 2014
Birkbeck welcomes the results of the 2014 Research Excellence Framework (REF), published today. The results are proof of quality and strength across a wide range of disciplines at the College.
The REF results show that:

73% of our research is rated 'world-leading' (4*) or 'internationally excellent' (3*)
In keeping with the sector, Birkbeck research was found to have improved significantly since the last exercise in 2008 when 56% of our research was rated 'world-leading' or 'internationally excellent'
83% of Birkbeck staff were returned in the REF - this is well above the sector average
Birkbeck's science submission performed exceptionally well with Psychology rated 5th in the UK, Earth Systems & Environmental Sciences rated 6th and Biological Sciences rated 11th. The last two were joint submissions with UCL
Half of Birkbeck's submissions were rated in the top 20 nationally with Philosophy and Sociology rated 13th, Politics 17th and History 18th joining the success in science.
Significant improvements were seen in Law and in Modern Languages & Linguistics
The 2014 REF put a new emphasis on universities being able to demonstrate the impact of their research on the world beyond academia. Birkbeck's REF results show the relevance of the College's research to many aspects of our everyday lives – whether influencing policy-makers in their thinking about early years education; working with major companies such as Proctor & Gamble to educate parents about their child's development; or trialling new drugs for the treatment of cancer. Three subject areas - Psychology, History and Art &Design - achieved 100% at the highest ratings for impact.
Eight of Birkbeck's REF submissions (Psychology, Biological Sciences, Earth Systems & Environmental Sciences, Law, Modern Languages & Linguistics, English, History, Art & Design) achieved 100% at the highest ratings for research environment. In this category the REF was looking for an environment that is 'conducive to producing research of world-leading and internationally excellent quality, in terms of its vitality and sustainability'. This result confirms the College's status as one of the UK's leading institutions in which to conduct research.
"This is a strong result for Birkbeck," said Professor David Latchman CBE, Master of Birkbeck. "I am delighted that the REF has recognised the quality and breadth of Birkbeck's research base, our commitment to supporting the highest standards of international research, and the impact and relevance of our work to society."
Professor Stephen Frosh, Pro-Vice-Master for Research, added: "These results are pleasing and show the enormous amount of hard work that has gone on in recent years by our academics, contributing to a really strong submission from Birkbeck.
"This is the result of the College's research strategy, which has made a deep commitment to creating the best possible conditions for academics to participate actively in research, and to pursue their own intellectual interests. Today underscores our strong record of successful applications for research grant funding from the UK's research councils in recent years, and confirms our high standing within the research community.
"I am particularly delighted that we achieved this result with a high proportion of our academic staff being submitted to the REF. This shows how central research is to our life at Birkbeck.
Ends