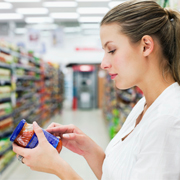 Quality and freshness of product is pivotal to the success of any food service operations.
Denver, CO (PRWEB) December 17, 2014
Food safety labels play a pivotal role to those in the food service industry, allowing them to serve their customers with confidence. To heighten awareness of this, December has been designated Worldwide Food Service Safety Month. Mislabeled products can lead to allergic reactions or other sicknesses due to expired food being served to customers, which is why it is so important that those businesses in the industry label their food carefully. Lightning Labels, a custom label and sticker printing company, can help firms in the food service industry ensure the quality of their products through better custom food labels.
"Quality and freshness of product is pivotal to the success of any food service operations, regardless of whether it is a school cafeteria or a dedicated restaurant," explained Scott Proctor, Vice President of Sales at Lightning Labels. "Businesses cannot ensure that quality if their products are mislabeled or do not have labels at all, which is a problem Lightning Labels can help these organizations address."
Why are Food Safety Labels so Important?
Food safety labels are critical for keeping customers and diners safe. Recent research from Food Allergy Research & Education (FARE) found that as many as 15 million people have food allergies. In fact, more than 300,000 ambulatory-care visits happen a year due to allergic reactions. Poor labeling may result in food being served to customers that they are allergic to. Even mistakes such as handling ingredients with allergens can result in a major problem.
Additionally, expiration dates can be a real problem as well. Poorly labeled food products may result in good ingredients being thrown away prematurely, which is a huge waste of money. Conversely, poor labeling may also result in expired food being served to customers, which is an even greater concern and may even lead to damaging lawsuits.
Finally, labels can also be useful simply for ensuring organization in the kitchen. Perhaps a product needs to be handled in a specific way, or companies just want to avoid confusion - after all, it can be tough to identify products in bags or boxes deep in the back of the freezer.
Custom Stickers are the Best Place to Start
Food service companies need to maximize the availability of accurate information in the kitchen, and this starts by using custom labels. These stickers can be applied to anything and can come with pre-printed messages - such as allergen warnings - or could be left blank to allow staff to write their own messages, such as product descriptions and expiration dates.
Lightning Labels offers custom labels and stickers that will fit the needs of any food service company for affordable prices. We offer Lightning fast turnaround times, no set-up fees and free printed press proofs to ensure customers like the label and sticker products they will be receiving.
For those ready to place label orders, Lightning Labels is offering 15% off new label orders now through 12/19/14. Maximum discount is $1000. Free ground shipping applies to orders placed online only and shipped within the United States & Canada. Enter code HOLIDAY14 at checkout. This offer cannot be combined with any other offers or promotions. Visit http://www.lightninglabels.com today.
About Lightning Labels:
Lightning Labels uses state-of-the-art printing technology to provide affordable, full-color custom labels and custom stickers of all shapes and sizes. From small orders for individuals, to the bulk needs of big businesses, Lightning Labels is equipped to handle and fulfill custom label and sticker projects of all types. Best of all, like the name implies, Lightning Labels provides a quick turnaround for every customers' labeling needs. Uses for Lightning Labels' custom product labels and custom stickers include food packaging and organic food labels, wine and beverage labels, bath and body labels, and nutraceutical products, such as vitamins, essentials oils, and herbal remedies, as well as event stickers, adhesive window stickers and more. Lightning Labels strongly supports the development of environmentally friendly printing materials and carries EarthFirst PLA, a new kind of green label material made from corn instead of petroleum. While operating as a high-tech printer, Lighting Labels prides itself on its personalized customer service. Lightning Labels provides one stop shopping for all of your custom label needs. For more information and to place orders online, visit LightningLabels.com. For the latest in packaging news and labeling promotional offers, find Lightning Labels on Twitter (@LightningLabels), Facebook, Pinterest, Google and LinkedIn.