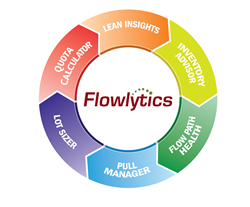 This change reflects our focus on using advanced math and analytics to improve the flow of materials through our customers' plants and supply chains. - Tom Knight, CEO of Invistics
Atlanta, Georgia (PRWEB) December 18, 2014
Invistics, the recognized leader of demand-driven Lean manufacturing solutions for high-mix industries, announced today the rebranding of its flagship SaaS (Software as a Service) suite to now be Flowlytics.
Simultaneously, Invistics announced that version 6.0 of the software has been released to its customers. Commenting on the rebranding, Invistics Founder and CEO Tom Knight explains "This change reflects our focus on using advanced math and analytics to improve the flow of materials through our customers' plants and supply chains." In addition to the name change, version 6.0 brings with it significant changes and enhancements to Invistics' software tools:

Redesigned User Interface
New UI brings modern look and feel to Flowlytics.
New navigation improves access to all modules in the suite
Improved design allows better use of screen real estate for all devices
Support for Mobile devices
Flowlytics now supports iOS and Android devices
Multiple Desktop Browser Support
Flowlytics now supports Chrome, Firefox, and Safari desktop browsers
Sharepoint Integration Support
Supports Sharepoint integration via iFrames
Improved Performance
New design renders faster and performs more smoothly
Vice President of Solutions, Charles Agulla adds "This release is our most ambitious to date. Our new user interface brings an enhanced level of usability to our customers, as well as providing support for a host of mobile devices. We expect these changes to allow a new set of users throughout all levels of our customers' organization to have seamless access to our software tools."
Customers are excited about the new functionality being rolled out this week. Stan Simpson, Manufacturing Flexibility leader for a Fortune 500 Consumer Packaged Goods (CPG) company explains "As we expand our implementation of Invistics' tools, we are excited about the new features that the Flowlytics release provides. For us, the ubiquity of availability provided (whether that is via Sharepoint, or mobile devices) is key to our team's improved performance."
About Invistics
Invistics provides consulting services and supporting software solutions that enable high mix manufacturers to achieve the right inventory levels for their supply chain through advanced analytics and actionable insights. Based on Six Sigma and Lean principles, Invistics solutions help manufacturing executives improve profitability by reducing cycle times and costs, while increasing throughput and customer satisfaction.