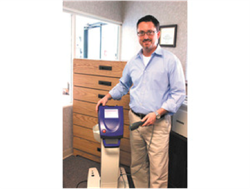 Dr. Scott Leffler is a veterinarian with the latest technology and equipment.
STREETSBORO, OH (PRWEB) December 16, 2014
Laser surgery has grown in popularity not only because of it timely release, but also its extremely beneficial veterinary features. Dr. Scott Leffler of the Animal Medical Center of Streetsboro is the first in the area to take advantage of these benefits.
Dr. Scott Leffler, a professional veterinarian out of the Akron, Ohio area, is now offering surgical laser and procedures for his clients.
"The benefits of using laser for surgical procedures are numerous, but I believe my patients and clients appreciate less pain post-operatively to get them back on their paws faster," said Dr. Scott Leffler.
Benefits of veterinary laser surgery:

Treats and reduces pain
Reduces bleeding
Less swelling and inflammation
Reduces chances of infections
Accelerates healing time
Laser therapy follows laser surgery, and the uses of both are extremely beneficial.
For both large and small animals, laser therapy is used to treat conditions such as pain, back injury, sprain/strains, edema, and wound healing/post-op. It may also provide relief for chronic conditions like hip dysplasia, periodontal disease, arthritis, and degenerative joint disease.
For more information about Dr. Scott Leffler and his practice, please visit The Animal Medical Center of Streetsboro at http://www.animaldogtor.com.
About Animal Medical Center of Streetsboro:
The Animal Medical Center of Streetsboro is a full service animal hospital. The mission it has is to partner with its clients to provide a longer, healthier and happier life for their animal companions. The Animal Medical Center of Streetsboro is committed to providing quality veterinary care throughout the life of its clients' pets.
###