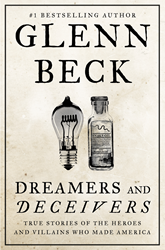 Birmingham, Ala. (PRWEB) December 16, 2014
Glenn Beck's only signing event for his new book, "Dreamers and Deceivers: True Stories of the Heroes and Villains Who Made America" will take place at 7 p.m. on Thursday, December 18 in the Grapevine, Texas Books-A-Million.
Tickets to this Author Signing Series event will be available on a first come, first served basis starting at 10 a.m. on Tuesday, December 16 at the Grapevine Mills Books-A-Million. His new book, "Dreamers and Deceivers" must be purchased from the Grapevine Mills Books-A-Million store and proof of receipt is required in order to receive a ticket to the book signing.
Customers should enter through Entrance 4 of the Grapevine Mills Mall prior to 6:15 p.m. on the day of the event to participate. The address for Books-A-Million's Grapevine Mills Mall location is 3000 Grapevine Mills Parkway Space 408, Grapevine, Texas 76051.
Media must receive appropriate credentials to cover the event and should contact Christine Corbitt (corbittc@booksamillion.com) by 10 a.m. CST on Thursday, December 18th. For more information about the book signing please contact (972) 961-6420.
Beck is a former Fox News host and founder of The Blaze television network. He is a nationally syndicated radio host and a twelve-time #1 best-selling author. Beck has written best-sellers across many different categories, including non-fiction, fiction, children's picture book and self-help genres.
Presenting Glenn Beck's one-and-only signing event for his new book shows Books-A-Million's commitment to bring its customers their favorite authors.
ABOUT BOOKS-A-MILLION
Books-A-Million, Inc. is one of the nation's leading book retailers and sells on the Internet at http://www.booksamillion.com. The Company presently operates 262 stores in 34 states and the District of Columbia.
The Company operates large superstores under the names Books-A-Million (BAM!), Books & Co, 2nd & Charles, and traditional bookstores operating under the names Bookland and Books-A-Million. Also included in the Company's retail operation is Yogurt Mountain Holding, LLC, a retailer and franchisor of self-serve frozen yogurt stores with 44 locations. The Company also develops and manages commercial real estate investments through its subsidiary, Preferred Growth Properties, which presently includes four retail shopping centers.
The common stock of Books-A-Million Inc. is traded on the NASDAQ Global Select Market under the symbol BAMM. For more information, visit the Company's corporate website at http://www.booksamillioninc.com.
Follow Books-A-Million on Twitter (http://twitter.com/booksamillion)