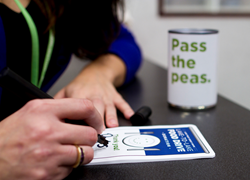 "I can't tell you how grateful we are for everyone's support," said David Snodgrass, Lake Trust Credit Union President and CEO. "This opportunity to help so many families is tremendous. The contributions our communities have come together to make is truly
Lansing, Michigan (PRWEB) December 18, 2014
Lake Trust Credit Union's 3rd Annual nationally award-winning Lake-to-Lake Food Drive is a success. The Food Drive, held on Friday, November 21, at the Credit Union's 21 branches throughout Michigan, worked with its community, members and local partners to gather food for Michigan families in need. And today, the Credit Union announces that the effort has collected 25,000 meals for those families.
The Food Drive, as it has been in past years, was given a boost with a 400 turkey donation from FireKeepers Casino Hotel. This contribution, along with online and branch donations, will again help to fill pantry shelves at local food banks for Michigan families in need during the holiday season.
"I can't tell you how grateful we are for everyone's support," said David Snodgrass, Lake Trust Credit Union President and CEO. "This opportunity to help so many families is tremendous. The contributions our communities have come together to make is truly meaningful for Michigan families in need."
The Lake-to-Lake Food Drive has raised nearly 70,000 meals for Michigan families over the past three years.
"We're extremely appreciative for the time and effort of our local partners, members and communities to make a difference in these family's lives," said Keith Koppmeier, Lake Trust Credit Union Director of Corporate Responsibility. "To be able to pull together like this to reach out to so many is incredible, and it takes all of us."
In addition to FireKeepers Casino Hotel, Lake-to-Lake Food Drive partners are Greater Lansing Food Bank, Feeding America West Michigan Food Bank, Food Gatherers, Gleaners Community Food Bank of Southeastern Michigan and Isabella Community Soup Kitchen, along with Two Men and a Truck.
To learn more about the Lake-to-Lake Food Drive, visit laketolakefooddrive.org.
The Lake Trust Credit Union Foundation is a 501(c)(3) dedicated to making a difference by volunteering time and resources to Michigan. The Foundation's mission is to bring people and organizations together to create strong, diverse, vibrant neighborhoods through sponsorships, grants and Team Lake Trust volunteerism. Learn more at laketrust.org.
Lake Trust Credit Union is Michigan's fourth largest credit union with branches stretching from Lake Michigan to Lake Huron and Lake Erie. With more than $1.5 billion in assets, Lake Trust provides over 157,000 members with best-in-class products and offers individualized, trust-based member service. As a community-based credit union, Lake Trust strongly believes in supporting its communities and participates annually in Komen for the Cure® in Ann Arbor and Lansing, as well as nearly 100 events and causes annually throughout Michigan. Membership is open to anyone within its 35-county service area. Follow Lake Trust on Twitter @laketrust. Lake Trust is also on Facebook.