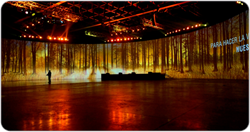 The excellent performance of the Christie 3-chip DLP® means that we can operate 24 hours absolutely problem-free.
SANTIAGO, Chile (PRWEB) December 18, 2014
Christie® 3-chip DLP® projectors and Christie Spyder X20 image processors were used to spectacular effect at high-profile corporate events held in Santiago's Espacio Riesco Convention Center recently in conjunction with Proyección de Ideas (PI), a company specializing in audiovisual content and engineering.
Working exclusively with Christie projectors, Santiago-based Proyección de Ideas has been the driving force behind manifold corporate events, monumental projections and fixed installations for over ten years.
Marco Gajardo, CTO of Proyección de Ideas, stated, "The excellent performance of the Christie 3-chip DLP® means that we can operate 24 hours absolutely problem-free. We need highly versatile projectors for our projects, and when it comes to resolution, we know Christie projectors are capable of responding to whatever is thrown at us. In addition, when making adjustments, the built-in Twist software provides us with a wider set of tools."
Christie and PI at Banco Santander Convention
For the annual Banco Santander convention that hosts over 300 executives from this banking institution, Proyección de Ideas installed a striking 80-meter by 9-meter curved screen that surrounded the audience.
A Christie Roadie HD+35K projected on the center of the screen while four blended and warped Christie Roadster HD20K-J projectors – two on the left section and two on the right section – covered the rest of the screen. All five projectors were horizontally suspended and provided 9600 by 1080 total resolution.
Using a Christie Spyder X20 video processor, multiple signals from closed circuit cameras were incorporated into picture-in-picture projections with everything coordinated by mamboPlayer, the media server developed by Proyección de Ideas' software engineering department.
Christie and PI at Entel Summit
Entel Summit is an annual innovations, technology and business meeting. Now in its seventh year, this year's 'Towards a Total Connectivity,' theme featured a talk by Joi Ito, the influential entrepreneur, technological investor and Director of the MIT Media Lab.
With mise-en-scène critical, Proyección de Ideas devised a stunning five-screen multiple projection of videos with content created by the company using 2D and motion graphic elements.
The 20.8-meter by 4.5-meter central screen featured three blended and warped Christie Roadster HD20K-J projectors while the four 6.1-meter by 4.5-meter side screens – each lit by a Christie Roadster HD14K-M – were used to display the signals from the close circuit cameras.
Proyección de Ideas used the Christie Spyder X20 processor and mamboPlayer media server to compose and mix the live CCTV signals with presentations and videos. The presentation, enhanced by DMX lighting interacting with the on-screen visuals, impressed the 1,300-plus audience.
Niall Ferguson lecture featuring Christie and PI technology
World-renowned historian Niall Ferguson visited Chile to give a lecture organized by Universidad Adolfo Ibáñez and for his speech, Proyección de Ideas conceived a spectacular semicircular design consisting of a 14.93-meter by 4.4-meter central screen and 16 additional panels for a 32-meter by 5-meter overall projection surface. From a throw distance of 10.35 meters, two blended Christie Roadster HD20K-J projectors showed 2D elements, motion graphics and ambient loops created by Proyección de Ideas on the central screen while four Christie Roadster HD14K-M projectors projected onto the side screens. One Christie Spyder X20 and one mamboPlayer media server processed the images.
Sofofa annual dinner turns to Christie and PI
Chaired by the country's President, Michelle Bachelet, the annual Sociedad de Fomento Fabril (Sofofa) dinner is Chile's most important business event and for this event, Proyección de Ideas deployed a 54-meter by 5.5-meter flat screen. Seven independent signals were projected with one Christie Roadie HD+35K managing the central section of the screen while two Roadster HD14K-M's and one Roadster HD20K-J were used for each of the side sections.
The presentation – using 3D elements and motion graphics created by Proyección de Ideas – examined the history and future of Sofofa with supporting material featuring some of Chile's most beautiful landscapes.
Apart from the main screens, two additional 6.1-meter by 3.43-meter screens displayed images from the closed circuit cameras with each screen using a Christie DHD800 1-chip DLP® projector. Two Christie Spyder X20 image processors and four mamboPlayer media servers managed the presentation flawlessly.
About Christie
Christie Digital Systems USA, Inc. is a global visual technologies company and is a wholly-owned subsidiary of Ushio, Inc., Japan. Consistently setting the standards by being the first to market some of the world's most advanced projectors and complete system displays, Christie is recognized as one of the most innovative visual technology companies in the world. From retail displays to Hollywood, mission critical command centers to classrooms and training simulators, Christie display solutions and projectors capture the attention of audiences around the world with dynamic and stunning images. Visit http://www.christiedigital.com.
Follow us:
Twitter.com/christiedigital
Facebook.com/christiedigital
#christiedigital
"Christie" is a trademark of Christie Digital Systems USA, Inc., registered in the United States of America and certain other countries.
DLP® is a registered trademark of Texas Instruments