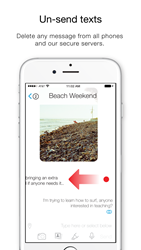 We've found the perfect combination of design and function to attract people who enjoy good conversation.
New York City, New York (PRWEB) December 17, 2014
Inbox Messenger, a design-centric messaging app that makes conversation personal again, announced today that it has completed a $3.9 million seed round funding from a group of angel investors. Inbox Messenger will leverage funding to grow engineering and product teams to focus on enhancing its real-time communications infrastructure, new features and expanded customer service support for its growing user base.
"Our vision has always been to design Inbox Messenger with simplicity and elegance to create a comfortable and intimate way for people to stay connected from anywhere in the world," said Maher Janajri, Co-Founder and CEO of Inbox Messenger. "Our investors share our vision and this round of funding allows us to push forward with improving our product, growing our team and continuing to focus on the user experience."
Inbox Messenger is a light, modern messaging app that takes a minimalist approach in creating a more personal experience when connecting with friends. With Inbox Messenger, mobile conversations are upgraded with features based on two main themes. First, the app creates comfortable and worry-free messaging by allowing people to un-send texts, images, voice messages and videos, which are also deleted from Inbox Messenger's servers. Adding further to the concept of comfortable conversation, people can cloak messages with a flick of the wrist and get notified if a screenshot is taken. The second theme is enhancing forms of expression in messaging. People can connect with their friends using the app's rich set of messaging features, including Drawing Messages which gives them the ability to draw and send a replay of the drawing.
The past month has seen traction not only in the United States, but internationally in Brazil, Spain, and China. And Inbox Messenger looks to continue growing through partnerships, including its recent collaboration with CauseTap, which launched a smartphone application that makes it easy for consumers to discover fun and useful mobile apps while supporting their favorite nonprofit causes at no additional cost.
"There are a lot of messaging app options from developers across the world, but we believe we've found the perfect combination of design and function to attract people who enjoy good conversation," remarked Hani Shabsigh, Co­-Founder and CTO of Inbox Messenger.
Inbox Messenger is available for free on iPhone and iPod touch on the App Store and for Android devices on Google Play.
About Inbox Messenger
Inbox Messenger redesigns mobile conversations into a personal and beautiful experience. With a modern, design-first concept, users can un-send texts, photos and videos and cloak messages. Inbox Messenger was founded in New York City in 2013 by Maher Janajri and Hani Shabsigh. Inbox Messenger is free on the App Store and Google Play. For more information, please visit https://www.inboxtheapp.com.