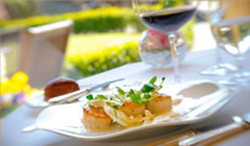 "To win two golds was an honour and a wonderful way to start the final month of 2014!"
(PRWEB UK) 19 December 2014
The Montagu Arms situated in Beaulieu, Hampshire, has had a very successful year, which has been topped off fantastically with the recent Beautiful South Awards.
The Montagu Arms left the awards winning two golds for 'Best Small Hotel' and 'Flavour of the South-East'. This was incredible news for the hotel as it was announced at the end of November that Head Chef, Matthew Tomkinson, won 'Chef of the Year' at the Hampshire Life Food & Drink Awards 2014 too.
Awards success has continued to roll in for the 4 star 17th century country house hotel throughout the year; however, this winter has been particularly special.
In October, the hotel's restaurant, The Terrace, retained its Michelin Star for the fifth consecutive year, remaining the only Michelin Starred restaurant in the New Forest National Park, and one of only three in Hampshire.
Matthew's dishes are inspired by his love for British food, the traditional roast dinner and making the most of the local, good quality produce around him, taking into account the seasonal changes that impact our food.
This thoughtful mind set has helped him to produce award-winning cuisine at The Terrace restaurant for the past 6 years, with customers returning time and time again to experience fine dining in the New Forest.
Hotel Manager, Sunil Kanjanghat, is elated with the hotel's award success this season:
"It's been an incredible year for The Montagu Arms, every department has either been nominated or won an award and it's such a great achievement. I am so pleased for Matt for winning 'Chef of the Year' and the Hampshire Life Food & Drink Awards.
"He and his team work extremely hard to provide the best Michelin Star experience for our guests and with his attention to detail, he certainly deserved this award. As for the Beautiful South Awards, I am overwhelmed with our success.
"To win two golds was an honour and a wonderful way to start the final month of 2014!"
Situated in the heart of the historic village of Beaulieu, nestled in the unique, beautiful landscape of the New Forest National Park, the Montagu Arms is widely regarded as one of the top places to stay and dine in the south.
For more information about the award winning service at the Montagu Arms Hotel or the renowned menu from the Terrace Restaurant, please visit http://www.montaguarmshotel.co.uk or call 01590 612324.