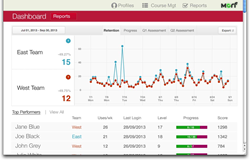 Morf Media's product helps FirstFunding deliver a customized playbook to our customers and business partners that we believe will contribute to a higher quality of transactional business.
Sunnyvale, Calif. (PRWEB) December 16, 2014
Morf Media, Inc.,the premier developer of gamified enterprise e-Learning in the cloud (GILS ™), today announced that FirstFunding has selected the Morf Media e-Learning system to help them train their correspondent lenders to perform at their best in 2015. FirstFunding is adopting Morf Media GILS on mobile devices to train their lenders to meet key regulatory requirements such as TILA/RESPA and to optimize their playbooks for strong growth in the coming year—a year reforecast by the Mortgage Banking Association (MBA) to yield the mortgage origination industry a play for serious upside--to the tune of $50 billion.
Jim Dunkerley, CEO of FirstFunding, a nationwide, privately held non-depository financial services company, stated that when he saw Morf Media GILs demoed at the New England Mortgage Bankers Conference this year, he recognized he'd found a better way to accelerate his vision to increase business in 2015 and beyond. In the coming year, Dunkerley sees an optimistic trend -- the industry poised for solid growth, and according to the MBA, 2014 projections are up from $1 trillion. The MBA revised its 2013 origination result up to $1.85 trillion from $1.76 trillion after looking at the Home Mortgage Disclosure Act data. Dunkerley plans to utilize Morf Media GILS to help his lenders and partners learn how to increase their business potential, meet regulatory requirements and achieve their goals using state of the art technology and information packaged as an app with a mobile game-like experience.
Dunkerley stated: "Planning, forecasting, and pivoting to meet rapid industry changes are a given in the mortgage origination industry. That is why we at FirstFunding are so excited to work with Morf Media Inc.'s GILS solution to help us implement cost-effective programs for customized training that produce strong ROI every time it's used or I should say, 'played.' Morf Media has created a way to make it fun for our customers and partners to train and compete while they learn. They can gain education on the go while raising the bar on critical industry knowledge. We envision the engagement of the user with a monitoring and measuring system that helps us adjust training to boost performance for any individual and correspondingly reduce certain risks. Morf Media's product helps us deliver a customized playbook to our customers and business partners that we believe will contribute to a higher quality of transactional business."
Morf Media Gamified e-Learning Management SaaS (GILS) for Enterprise Training
The Morf Media patented GILS platform features 2D interactive learning environments that are scalable and based on engagement through game mechanics and game-theory elements. Delivered as software-as-a-service (SaaS), Morf Media GILS is a web-based and mobile platform for learning. It supports smart data to measure return on investment (ROI) and employee progress. The foundations of the technology platform are a 2D game engine, natural language processing, and behavior profiling through artificial intelligence. The content is organized in a Learning Management System (LMS) compliant with Shareable Content Object Reference Model (SCORM) for e-learning platforms. Companies like FirstFunding cite that its benefits include overall improvement in employee engagement, increased knowledge retention rates, greater capacity for repetitive skill training, more robust assessment tools, and overall reduction in corporate training expense.
Morf Media Gamified e_Learning System Digitally Engages People to Achieve Their Goals
"Morf Media GILS is transforming enterprise training and e-Learning, a $292 Billion opportunity, to digitally engage and motivate people to achieve their goals," said Eduardo Cervantes, CEO of Morf Media, Inc. "Our customers, like FirstFunding, are among the top leaders in the mortgage supply chain to put a priority on education and make training fun while delivering a cost-effective platform that can synch with our CRM, ERP and HR strategic systems and initiatives."
For investor inquires and more information about Morf Media, please visit: http://www.morfmedia.com.
For crowdfunding information about Morf Media, please visit Angel List, Gust or Equitynet.
About FirstFunding
FirstFunding is a privately held non-depository financial services company offering residential mortgage warehouse financing nationwide to mini-correspondent and correspondent lenders, community banks and credit unions. For more information on FirstFunding, please visit http://www.firstfundingusa.com.
About Morf Media, Inc.
Morf Media Inc. is leveling up enterprise training and e-Learning management for companies with its Gamified Intelligent eLearning System® (GILS®). Morf Media GILS is distinguished by its digital engagement model, its measurement and data feedback system, and its game-like environment that helps motivate employees to play to achieve their training goals, refresh and retain their learning and meet regulatory requirements. Morf Media GILS offers an easy-to-update content and measurement platform, designed with work-based simulations, game-theory and game elements from the world-renowned Yu-Kai Chou Octalysis gamification framework. Customers and partners across the financial services and mortgage supply chain are using the browser-based cloud GILS platform from Morf Media to train their employees to be at the top of their game and play for serious business.
Morf Media GILS Morf Media, Inc. USA was founded in 2013 and is headquartered in Palo Alto, California with offices in San Francisco. It is wholly owned and funded by Morf Media AG, Switzerland.