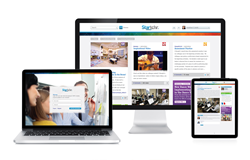 "This is an exciting time for arts education in New York City. A renewed commitment to the arts has not only triggered several arts initiatives but has also provided teachers of the arts a dynamic yet pragmatic professional learning experience around teac
New York, New York (PRWEB) December 17, 2014
Brand Labs NY in partnership with Soni Consultants announced the launch of StarTchr – the nation's first social platform designed specifically for educators of dance, music, theater, and visual arts. Commissioned with private funds and managed by the New York City Department of Education's Office of Arts and Special Projects, the platform is a hybrid technological solution based on a Partner Learning Management Platform and rooted in social media best practices. StarTchr meets the high demands of today's arts educator. It provides a unique set of tools to share, support, collaborate, and grow upon best practices. The platform also intends to serve as a pertinent resource for school administrators. Using StarTchr as a conduit of support will give administrators access to integral tools to effectively supervise the multiple components of quality arts education.
"This is an exciting time for arts education in New York City. A renewed commitment to the arts has not only triggered several arts initiatives but has also provided teachers of the arts a dynamic yet pragmatic professional learning experience around teacher effectiveness. Arts teachers who place a high value on connection, collegiality, and professional learning now have the opportunity to support one another and engage in peer dialogue and exchanges to deepen pedagogical practices thanks to a first-of-its kind social learning platform." says Pascal Licciardi, Director of Teacher Development in the Arts, Office of Arts and Special Projects of the New York City Department of Education.
StarTchr is now available to select arts teachers. By early next year it will be made available to all arts educators across New York City's public school system. With the early engagement numbers surpassing all estimations we hope to see continued adaptation and expansion within the New York City Department of Education.
About Brand Labs NY: Founded in NYC by an award-winning designer Alexander Aksenov, Brand Labs NY, part of the 9.8 Group, is a strategic Visual Branding agency with a core team that's passionate about functional design. BrandLabs is rooted in visual branding and driven by business goals; it is this cornerstone that enables the agency to consistently deliver tangible results to its' impressive roster of clients for almost 17 years.
About Soni Consultants: Soni Consultants is a digital strategy agency that helps companies establish their online presence, build their brand, and generate high quality leads, by taking advantage of the possibilities online marketing unveils. Our services include: Engagement strategy development, reputation management, SEO and digital marketing, web development and social media management. Soni Consultants services a wide range of companies, ranging from small business to Fortune 500 brands. The company is headquartered in New York City.