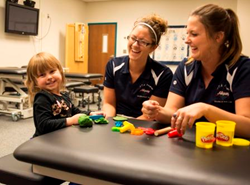 "It has been such a great experience for both the OTA students and the young people from the community," said Dr. Rae Ann Smith, OTA professor and program director.
Cumberland, Md. (PRWEB) December 18, 2014
Allegany College of Maryland's Occupational Therapy Assistant program is helping children through a variety of developmental challenges as it is giving its own students a stronger background working with a young population.
The effort, a new component of Intervention with Children and Adolescents, recently enabled seven area youngsters to closely interact with second-year OTA students in the course's laboratory component.
The class, which deals with injuries, diseases and difficulties common in persons from birth through adolescence, provided an opportunity for guided practice with actual members of that population, said the instructor, Heidi Croyle.
Croyle, a former classroom teacher who graduated from the OTA program in August 2013, saw the chance to bolster the laboratory component of the fall-semester course when she was hired to teach it a year later.
"There was a lot of opportunity that wasn't being utilized," she explained. "They need hands-on experience."
With the OTA program's support, Croyle set about devising an after-school program for children with developmental delays in fine and gross motor control, sensory self-regulation and skills for self-help, social participation and classroom involvement.
She alerted the community of the free, six-week program that she developed with a brochure circulated within the Allegany County Public School system and elsewhere. Parents and grandparents responded.
The seven young people who participated, ranging in age from 2 to 20, are working through challenges posed by Down syndrome, autism, developmental delay and fine motor and attention deficits.
With 15 second-year OTA students in the course, the new program allowed for two-on-one attention given to the youngsters, from assessment of difficulties to development of an intervention plan and performance of activities to achieve treatment goals.
The seven came for 45 to 60 minutes each week for six weeks, doing age-appropriate activities in the OTA program's lab, which is equipped with toys, tools and other objects that promote development and build skills for activities of daily living.
Nikki Haynes of Greencastle, Pa., saw a clear benefit of the new program for her and her fellow students.
"I think it's two-fold," she explained. "We're working with actual patients. And, it gives exposure to the profession. A lot of people don't know what occupational therapy is."
Another student, Tara Shane of Imler, Pa., said the children's program had helped confirm her career switch from administrative assistant.
"I wanted to help people. That's more rewarding," she explained. "We're really grateful that we could participate in this."
Among the biggest believers in the project was a grandmother of two young girls being helped by Shane and her partner, Ariel Glessner of New Baltimore, Pa.
"This is a godsend," the grandmother said. "The [students] are doing a great job."
She said she is exploring every avenue to allow her granddaughters to work through communication and sensory perception deficits to help them develop normally.
According to her, other learning professionals involved in her younger granddaughter's treatment have commented on her progress since participating in the program.
"They've noticed tremendous improvement," she explained. "I'm just so thankful that my daughter saw the brochure and we got to have the girls in the program."
Dr. Rae Ann Smith, OTA professor and program director, was full of praise for the effort that Croyle initiated as part of her course.
"It has been such a great experience for both the OTA students and the young people from the community," she said. "I have looked forward to Tuesday afternoons when the department comes alive with the energy of all the students working together."
For more information about ACM's OTA curriculum contact Smith at 301-784-5536, or by email at rasmith(at)allegany(dot)edu. Information about the curriculum is also available on the college website, http://www.allegany.edu.