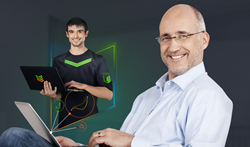 The amount of disclosed personal information makes it much easier for cyber-criminals to develop the pattern of an infection.
Cologne, Germany (PRWEB) December 17, 2014
On Tuesday.December 16, 2014, PCKeeper Live– software as a service, which specialty lies in custom PC optimization, had its customer support department puzzled with a new problem encountered by its customers. A new virus distributed via private messages in Facebook, is taking over personal profiles and is reproducing itself rapidly.
The very first outbreak of a scam was spotted among Russian-speaking community of Facebook. People were receiving personal messages from their friends containing the abbreviation "OMG" and a profile picture of a receiver with a shortened link below it, implying that the sender has discovered some personal information of the user. After following the link, a scam victim is offered to install a browser extension, which purpose remains unknown to the user. After the installation the extension blocks some functions of the browser, and hacks person's Facebook profile, gaining a full control over it (including personal information).
After a few hours, PCKeeper Live Technicians started to receive complaints from users in Denmark, Germany and other European countries. The virus was tagging Facebook friends of users in an unknown video with their profile pictures in a thumbnail and a text "*username* PRIVATE VIDEO" in the description. Opening the video would also be followed by infection.
"Social Media should be approached with much more caution nowadays. The amount of disclosed personal information makes it much easier for cyber-criminals to develop the pattern of an infection. Even with abnormally high amount of calls and emails from users, PCKeeper's Find&Fix department was ready for this situation and we have removed hundreds of malicious extensions at the moment. I recommend all Facebook users to contact an IT specialist in case of encounter with the virus" – states the head of PCKeeper customer support department, Alex Korolovich.
PCKeeper Live Lab has conducted a research based on a customer feedback, which shows that only Chrome browser users can be affected by infection. Malicious infection disguises itself as a YouTurn browser extension, using an app icon of the app.
PCKeeper Live's technicians advice to use all possible precautions while following unknown links and ask for a consultation of a specialist in case of suspicion of being infected.
About PCKeeper Live:
PCKeeper Live is a system optimization utility with a personalized approach to cleaning and optimization issues of a user's personal computer, implying the user-to-expert cooperation.
About Kromtech Alliance Corp.:
Kromtech Alliance Corp is a global IT investment and development firm that creates software applications for customers all over the world. The company's product portfolio includes:
-data cleaning tools;
-security applications;
-optimization software solutions.