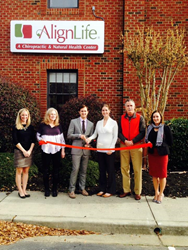 "We love how supportive the community of Simpsonville has been to us. The Chamber has done a lot to help us with the opening of our new business, including doing this Ribbon Cutting Ceremony."
Simpsonville, Sc (PRWEB) December 18, 2014
On Thursday, December 4th 2014, the Simpsonville Chamber of Commerce came out to celebrate the opening of AlignLife of Simpsonville. The office did a small meet and greet catered by the Farmer's Table restaurant located in Spartanburg, SC. This was followed by a ribbon cutting in front of the new signage on the building. Many members of the chamber were in attendance.
The sign was installed on the morning of December 4th and draws attention to the new office. It can even be seen at night.
The ribbon cutting ceremony also allowed the owners of AlignLife of Simpsonville to tell chamber members about the Toy Drive that is going on until December 19th in their office. Any toys donated will be given to A Child's Haven and the Greenville Shriner's Hospital. Any new patient who donates two toys will receive a free exam and consultation in the office. The office is located at 419 SE Main Street Suite 200 in Simpsonville SC.
ABOUT ALIGNLIFE
AlignLife is a chiropractic and natural health franchise founded in 2007 with the mission to provide the highest quality of natural healthcare services to communities around the nation. The integration of chiropractic with other natural health services has proven to save time and money while reducing the hassles of dealing with the complex American health care system. AlignLife is operated by founder and CEO, Dr. Joseph Esposito and President, Dr. Cristina Esposito. For more information or to find a clinic new you go to http://AlignLife.com.