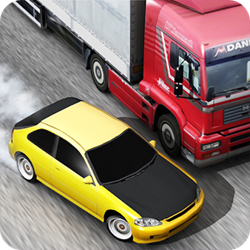 (PRWEB) December 18, 2014
The makers of the bold, arcade style driving game have enabled the Traffic Racer app for Intel® Atom™ Processor-based tablets for Android*. Now, racing enthusiasts can burn some serious virtual rubber on their high-resolution displays.
Redefining the endless racer paradigm, this app offers stunning, realistic graphics, instant response time and thrilling physics. Drivers can select and customize their ride from a wide array of state-of-the-art speed machines. Five different gaming modes include: Endless, Two-Way, Time Trial, Police Chase and Free Ride so gamers can max out their skills in any number of ways. The game also offers online options like leaderboards and achievements so that drivers can weigh their stats against the best.
Now enabled for tablets, this marvel of realistic driving action in crystal clear 3D is a visual treat for gamers. skgames had access to a range of business and technical tools through the Intel® Developer Zone.
"Traffic Racer takes high-speed racing up a notch," says Soner Kara, founder of skgames. "Android* tablets powered by Intel® Atom™ Processors deliver solid performance and gamers need that to experience this virtual driving rush."
Traffic Racer is available for immediate download at Google Play: https://play.google.com/store/apps/details?id=com.skgames.trafficracer
About skgames:
Soner Kara is the creative force behind Traffic Racer. For more information, visit: http://www.skgames.net/.
About the Intel Developer Zone
The Intel Developer Zone supports independent developers and software companies of all sizes and skill levels with technical communities, go-to-market resources and business opportunities.
To learn more about becoming an Intel® Software Partner, join the Intel Developer Zone.
Intel, the Intel logo and Intel Inside are trademarks of Intel Corporation in the U.S. and/or other countries.
*Other names and brands may be claimed as the property of others.
Copyright © 2014 Intel Corporation. All rights reserved.