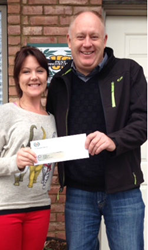 At U.S. Pest, we love spreading the holiday cheer to those who may not otherwise have a happy Christmas.
(PRWEB) December 17, 2014
Every year, U.S. Pest presents a charitable donation to The Bridge and this year is no exception. With the money received from the generous donations of individuals and businesses like U.S. Pest, The Bridge is able to share sleeping bags with the homeless to help them keep warm during the cold winter nights. The organization also acts as a local food bank to other ministries and offers assisted lunch programs to children.
In addition, U.S Pest is supporting Katie Hill Kids Christmas Toy Drive by sponsoring five children. The program was started by Lindsay Langley as a way to help her struggling neighbors provide their children with Christmas presents. Last year, the organization was able to support 15 families and 40 children by presenting them clothes, jackets, toys and other gifts.
"December is a special time of time year here at U.S. Pest. We love spreading the holiday cheer to those who may not otherwise have a happy Christmas," says Erica Brister, President of U.S. Pest. "This holiday season, we chose to make donations to both The Bridge and Katie Hill Kid's Christmas Toy Drive because of the incredible work they do to support the less fortunate."
Both organizations are still accepting donations. To learn more about these wonderful charities, visit http://www.bridgeministry.org and http://www.lynclair.com/2014-katie-hill-kids-christmas.
About U.S. Pest
Established in 1985, this family-owned company has served over 30,000 homes in Nashville and Middle Tennessee and was rated by the PCT Magazine as one of the top 100 Pest and Termite Control Companies in the United States. Led by Erica Brister, U.S. Pest has quickly become one of Tennessee's premier pest control companies by providing remarkable customer service and offering natural pest control products that protect the environment while effectively getting rid of pests. Learn more about U.S. Pest by visiting http://bit.ly/1qX6osn.