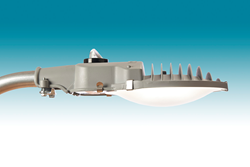 And the new integrated photocontrol, powered by a solar cell, provides a low cost, ready to install option for utilities.
Renton, WA (PRWEB) December 16, 2014
LED lighting manufacturer Evluma announces that its popular AreaMax outdoor area security light products can now be ordered with integrated photocontrol and anti-corrosion coastal materials options. The options work with AreaMax's new sleeker, lighter housing that increases overall architectural appeal and ease of installation.
"The updated AreaMax is the same robust technology, with the same thermal characteristics, supported by the same manufacturing philosophy, but with a more sophisticated look and feel," said Keith Miller, Evluma's President and CEO. "And the new integrated photocontrol, powered by a solar cell, provides a low cost, ready to install option for utilities."
Rugged die-cast construction, a glass lens and 20kV surge protection have made the AreaMax a dependable, utility grade, all-weather luminaire since its introduction in 2012. Every AreaMax includes the highly acclaimed photocontrol failsafe mode (PCFM) that enables the area light to continue to operate in the event of photocontrol failure. This feature, coupled with the estimated 20+ year service life of the AreaMax, ensures a very long maintenance-free operating life and substantial lifetime cost savings.
The anti-corrosion coastal package is recommended when installing the AreaMax where corrosion from salt is a concern. The coastal package option includes an aluminum access panel and stainless steel tenon clamp and bolts to guarantee longevity in harsh, salt fog environments. AreaMax is currently offered with a 10 year warranty, and comes in 40 Watt and 70 Watt configurations.
About Evluma
Formed in 2008, Evluma is committed to developing affordable, long-lasting and environmentally low impact LED lighting solutions that fundamentally change the landscape of the outdoor utility lighting market. Because of the initial market success of AreaMax, Evluma moved in July, 2014 to a new lean manufacturing facility in Renton, Wash., increasing the company's production capacity fivefold. Lean methodologies enable Evluma to deliver larger volumes of high quality products with shorter lead times.
AreaMax is a recognized winner of the 2013 NGL Outdoor Solid-State Lighting Design Competition in the Local Residential Roadway Category.
For more information please contact David Tanonis at 425-336-5800, or contact sales(at)evluma(dot)com.