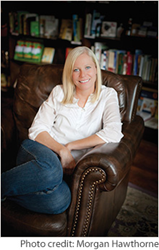 Galena, IL (PRWEB) December 17, 2014
Bestselling author Heather Gudenkauf will be in Galena, Ill. for the Galena LitFest Jan. 17. Gudenkauf will discuss her books, including The Weight of Silence and These Things Hidden, and share the tale of her journey to becoming an author. A book signing and meet and greet will follow the presentation.
"I'm looking forward to visiting with fellow book lovers in beautiful Galena, the perfect backdrop for discussing books, literacy and all things creative," said Gudenkauf.
Born with a profound unilateral hearing impairment, she used books as a retreat and would climb into a toy box with a pillow, blanket and flashlight, close the lid and escape the world around her. Gudenkauf became a voracious reader and the seed of becoming a writer was planted.
Gudenkauf graduated from the University of Iowa with a degree in elementary education, has spent her career working with students of all ages and continues to work in education as a Title I Reading Coordinator.
She lives in Iowa with her husband, three children and a German Shorthaired Pointer named Lolo. In her free time, Gudenkauf enjoys spending time with her family, reading, hiking and running. She is currently working on her next novel.
Galena Litfest is Jan. 17, 11 a.m.-5 p.m., at the DeSoto House Hotel, 230 S.
Main St., Galena IL 61036. Vendors and exhibitors include authors, booksellers, publishers and literary organizations.
Booksellers, publishers, book clubs, writers, writing groups and other literature-related groups are encouraged to participate. The application deadline is Jan. 2 and applications can be picked up at the Galena Public Library. For information, call 815.777.0200 or print an application at http://www.galenalibrary.org.
Galena is one of Midwest Living's Top 12 Girlfriend Getaway Destinations! Enjoy the Galena Litfest then take advantage of a deal on a skiing and snowboarding package. See http://www.VisitGalena.org for details.
For more information, go to http://www.VisitGalena.org or call 888.942.5362. While in town, stop by the Welcome Center in the Old Market House, 123 N. Commerce St., Galena IL 61036.