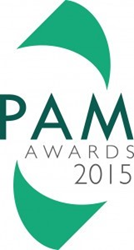 We are honored to be among the PAM Awards finalists. These nominations speak volumes...
New York, NY (PRWEB) December 16, 2014
Private Asset Management (PAM) announced the 2015 finalists shortlist for its PAM Awards, which recognizes outstanding wealth and investment managers. Convergent Wealth Advisors qualified in the Best Private Wealth Manager–Client Services, over $5 billion; and Best Lifestyle Firm categories. Independence by Convergent™ qualified in three categories including, Best RIA for High Net-Worth–New; Private Client Investment Platform–Client Services; and Best Lifestyle Firm. PAM marks their fifth year of this event, celebrating those firms that have provided exceptional client service and innovation to the financial services industry. The award winners will be announced February 2nd at a dinner ceremony to be held at Cipriani Restaurant in New York City.
Charles Winn, Convergent Chief Sales and Marketing Officer, says, "We are honored to be among the PAM Awards finalists. These nominations speak volumes about the tremendous effort put forth by our team each day to achieve and deliver excellent service for our clients."
About Convergent Wealth Advisors
Convergent Wealth Advisors is a recognized industry leader in wealth management, managing $8.6 billion in assets (as of September 30, 2014). Convergent provides investment consulting services and customized wealth management solutions to ultra-high net worth individuals and family offices with investable assets of $10 million and more. Independence by Convergent™ is a division of Convergent focused on servicing clients with $1 million and more in investable assets.
City National Bank is backed by $32 billion in total assets (as of September 30, 2014), and provides banking, investment and trust services through 77 offices, including 16 full-service regional centers in Southern California, the San Francisco Bay Area, Nevada, New York City, Nashville, and Atlanta. The company and its investment affiliates manage or administer $61.2 billion in client investment assets as of September 30, 2014. City National is the 25th largest American commercial bank by asset size.
Convergent has offices in Washington, DC, Los Angeles, New York, and Portland, OR.
Media Contact: Douglas Wolford | 301.284.1112 | Doug.Wolford(at)ConvergentWealth(dot)com
Non-deposit investment products are not FDIC insured, are not deposits or other obligations of City National Bank, are not guaranteed by City National Bank and involve investment risks, including the possible loss of principal.
Convergent is a majority-owned subsidiary of Convergent Capital Management, which is a subsidiary of City National Corporation (NYSE:CYN), the parent company of City National Bank.