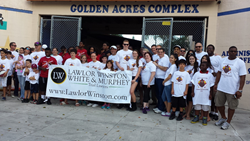 Fort Lauderdale, Florida (PRWEB) December 17, 2014
Holidays should be a time for families to celebrate and enjoy the extra time they have together – not worry about where there next meal is going to come from. That's why the Fort Lauderdale law firm of Lawlor, Winston, White & Murphey participated in Thanksgiving and Christmas outreach efforts to help needy families in Miami-Dade, Broward, Palm Beach, and Monroe counties in Florida for the 5th straight year. With the generous help of their community partners, 500 local families were given a helping hand to make the holiday season just a little bit brighter for them.
For the Thanksgiving event on November 23, 2014, the firm partnered with the law firm of Farmer, Jaffe, Weissing, Edwards, Fistos & Lehrman, P.L.; House Representative and local Ft. Lauderdale lawyer Perry Thurston; Matthew Kahn, C.P.A.; Scott M. Vengel, C.P.A.; Beef O'Brady's; Synergy Settlement Services; Alpha & Omega Court Reporting; IJDI; The Guest List; White Rabbit Marketing; and the Kappa Foundation to provide The Fifth Annual Broward County Thanksgiving Community Outreach. Participants not only provided generous monetary donations, but also worked hard to create and hand-deliver Thanksgiving dinner baskets that included turkey as well as other traditional Thanksgiving fare to families in the Pompano Beach area. Senior Partner John K. Lawlor said, "We are proud to continue what has become a tradition of giving in our legal community."
The firm's Fort Lauderdale office also hosted their Annual Holiday Kickoff Open House and cocktail party on November 21, 2014, where guests brought toys and gifts to be donated to children of elementary school age. KIDS in Distress (KID), a nationally accredited, community-supported agency dedicated to the prevention of child abuse and the care and treatment of abused children in Broward and Palm Beach counties, will distribute the gifts that were donated during the open house.
Lawlor, Winston, White & Murphey are noted Florida personal injury attorneys who specialize in personal injury, auto accidents, property damage, and insurance claim dispute law. As personal injury lawyers who provide assistance to those in the community who are vulnerable, they have an affinity not only for helping victims of others' negligence or recklessness, but also for improving the lives of children in need. The firm is involved year round with a number of local charities and organizations throughout Florida, including The Boys & Girls Club, the YMCA, the Guardian Ad Litem Program (representing abused and neglected children), and the COSAC Foundation (providing homeless relief).
The Lawlor Winston partners have been recognized as SuperLawyers from 2011-2014, a prestigious honor for attorneys who have attained a high degree of peer recognition and professional achievement. The attorneys are active members of the Florida Justice Association, the Broward County Justice Association, the Palm Beach County Justice Association, the American Association for Justice, and the Million Dollar Advocates Forum. For more information about Lawlor Winston, visit http://www.lawlorwinston.com
# # #
About Lawlor, Winston, White & Murphey: The law firm of Lawlor, Winston, White & Murphey focuses on protecting the rights of individuals and families. Practice areas include Catastrophic Personal Injury including Wrongful Death, Auto Accidents, Premises Liability, Insurance Bad Faith Disputes, Professional Malpractice, Commercial Litigation, Maritime/Admiralty, Labor & Employment Disputes, and Property Damage Claims. The firm is headquartered at 2211 Davie Blvd., Ft. Lauderdale, FL 33312, with offices in Naples, Venice, and Port St. Lucie, FL, and Las Vegas, NV. Contact them at 954.525.2345 or toll free 877.267.6022; email info(at)lawlorwinston(dot)com; or visit their website at http://www.lawlorwinston.com.