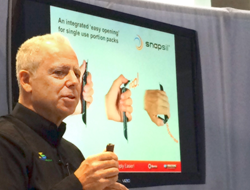 Marlton, NJ (PRWEB) December 18, 2014
Technical Help in Engineering and Marketing (T.H.E.M.), a leading North American provider of single-serve flexible packaging solutions, unveiled the Snapsil® easy-open portion pack at Pack Expo 2014. The semi-rigid container features a patented, audible "snap-opening" function that enables consumers to open the package with one hand. This distinctive feature, if not seen, was immediately heard by anyone passing by the T.H.E.M. exhibit at Pack Expo. Company representatives busily handed out samples to enthusiastic attendees, who readily opened the package to generate the distinctive Snapsil "snap."
On day two of Pack Expo, a standing-room-only audience gathered to see Neil Kozarsky, CEO and President of T.H.E.M., deliver a presentation about Snapsil. In his remarks, Kozarsky highlighted the importance of easy-to-open packaging: "As consumers living in a fast-paced, multi-task society, we are required to perform more one-handed functions. The packaging industry must recognize this and take steps to accommodate an increasingly one-handed world." With its simple and audible opening mechanism, Kozarsky demonstrated how the Snapsil package clearly aligns with this trend.
Bemis Company, along with MULTIVAC, have partnered with T.H.E.M. to bring the Australian-originated Snapsil technology to North America. This established supply chain relationship features Bemis as the material supplier, MULTIVAC as the builder of the thermoforming packaging machinery, with T.H.E.M. providing contract packaging services from its Marlton, NJ facility. All three companies showcased Snapsil at Pack Expo this year, with representatives from T.H.E.M., Bemis and MULTIVAC unilaterally acknowledging broad-based enthusiasm for the package by show attendees.
T.H.E.M. Introduces World's Fasted Single-Serve Liquid Pouch Filling Machine
T.H.E.M. also exhibited and ran the Sanko ZERO 1 high-speed liquid and paste packaging machine at Pack Expo. "The output rate is just incredible," noted one fascinated show attendee who gathered with many to watch the pouch filler in action. Capable of running at speeds over 2,400 packages per minute, the ZERO 1 delivers twice the output rate of traditional form-fill-seal pouch filling systems. The Zero 1 is in commercial production for major brands outside of the USA, and this Pack Expo event represented its unveiling in North America.
ZipBox® Hybrid Package Continues to Draw Attention
Developed in conjunction with global technology and commercialization partner Zip-Pak, a Division of Illinois Tool Works Inc. (ITW), Zipbox combines the stability of a carton with the convenience of a resealable flexible package, eliminating the need for a separate inner liner. This unique package meets the emerging need for better cube utilization, shipping and energy efficiencies, and enhanced consumer convenience. "We are pleased that Zipbox continues to attract attention and positive feedback," Kozarsky commented, acknowledging that a number of attendees visited the T.H.E.M. exhibit to specifically learn more about Zipbox. "With the validated 100/minute cartoner, we are now ready to commercialize Zipbox for both large and small applications on a global basis."
"People come to Pack Expo for access to the best ideas and creativity that the packaging supply chain has to offer," Kozarsky concluded. "Whether it's the speed of a machine like the ZERO 1, the convenience of a new package like Snapsil, or the ingenuity of Zipbox, there is an expectation by show attendees that they will come face-to-face with a game-changing idea or solution. Pack Expo 2014 did not disappoint, as we saw a number of really inspired innovations on display by many of our supply chain colleagues this year."
# # # #
About T.H.E.M.
Technical Help in Engineering and Marketing (T.H.E.M.) was founded in 1973 as one of the first providers of innovative packaging solutions in North America. The company is best known for commercializing Sanko Stick Packaging in the United States. Working in conjunction with select packaging and equipment manufacturers, T.H.E.M. offers a comprehensive array of packaging solutions designed to take brands from initial concept to full-scale national or global production. T.H.E.M. has a fully operational, on-site R&D center located at its Marlton, New Jersey headquarters, with pilot production, scale-up, and full-scale contract packaging capabilities.
For more information on T.H.E.M.'s flexible packaging machinery and contract manufacturing services, please visit http://www.them.net.
For more press information, please contact:
Ed Delia, President
Delia Associates
T: 908.534.9044
E: edelia(at)delianet(dot)com