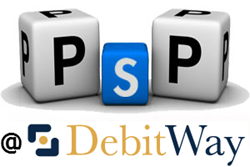 In the end it is all about making sure the online merchant can process transaction requests from anywhere in the world. Helping merchants has always been our #1 priority
Montreal, Quebec (PRWEB) December 25, 2014
The Montreal, Canada based alternative payment service provider (PSP) DebitWay.ca is now offering its vaunted Direct Debit Transfer (DDT) Global payment processing gateway to fellow Canadian PSPs. But why is DebitWay allowing competitors to "White-label" their product?
"DebitWay may have created, refined and perfected the DDT; Direct Debit Transfer online payment gateway, but our goal has always been the enabling of electronic merchants (eMerchants) to grow and honor their consumers' requests from all over the world, this is a payment gateway that everyone should have access to," avowed Director of Business Development & Production Rod Tomita.
By offering DebitWay's DDT, payment service providers can present their existing online merchants access to over 500 banks in over 50 countries, merchants who are likely already looking for ways to process international transaction requests and benefit from a Global Payment Gateway service.
PSP's who sign on to provide merchants with DebitWay's "cash online" DDT payment method will also be equipped to grant their merchant partners a feature unique to Debitway's DDT; guaranteed transactions that are immune to Charge Backs/Reversals. In essence, DebitWay is allowing eMerchants and their respective PSPs to enjoy Guaranteed Payment processing from anyone in the world.
DebitWay, who first made news by offering INTERAC® Online processing for Canadian electronic merchants in 2009, has grown its family of payment options other the years and has worked tirelessly to create a payment hub that merchant partners can both appreciate for its simple reliability as well as entrust it to evolve with the changing times.
By opening its virtual doors to other payment service providers (PSPs), DebitWay.ca is effectively providing eMerchants with the ability to expand their online businesses. "In the end it is all about making sure the online merchant can process transaction requests from anywhere in the world. Helping merchants has always been our #1 priority" said Rod Tomita.
From all of us here at DebitWay, we would like to wish everyone Season's Greetings and Happy Holidays!
Headquartered in Montreal, Canada, since 2004, DebitWay continues to be one of the leading Payment Service Providers in the world, as well as a Certified Payment Provider of INTERAC® Online solution in Canada. DebitWay merchant partners continue to benefit of being able to accept bank payments in real-time instantly.
Interac and the Interac logo are trade-marks of Interac Inc. The Interac Online Payment service is owned and operated by Acxsys Corporation.