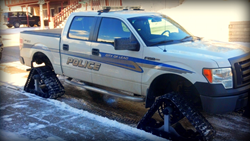 (PRWEB) December 18, 2014
Forecasters predict that the coming winter could be as brutal as the last for some parts of the country. Recent storms in Buffalo left thousands of vehicles stranded on public roads for days. But police in Lead, South Dakota are braving the snow and ice more easily this year thanks to a DOMINATOR Track System from American Track Truck.
Lead's police chief, John Wainman, says the DOMINATOR Track System by American Track Truck is able to take his officers to places where tires simply cannot go. In fact, Chief Wainman is confident that the truck tracks will allow his department to respond even during record setting snow storms. "Without these DOMINATOR Tracks our vehicles would be just as stuck as everyone else's. In our line of work that's unacceptable. Our residents are counting on us to be able to help," says Chief Wainman.
After experiencing near-crippling winter storms in 2013, the City of Lead Police Department decided to purchase a DOMINATOR Track System to quickly replace the tires on any of their 4x4 vehicles. The tracks are a great fit for all of their emergency fleet vehicles which include a Ford Explorer, Dodge Durango, and a Ford F150 pickup.
American Track Truck spokesman Mark Saari believes this is the perfect application for DOMINATOR Tracks. "Not everyone needs to get through the worst winter conditions, but when you do there are not many options. Our DOMINATOR Tracks are designed to be the most effective and affordable track systems available for deep snow and dangerous ice," says Saari.
In addition, the city of Lead obtained the truck tracks at no cost. Chief Wainman was able to acquire a grant from Homeland Security after the October 2013 storms left his department crippled and unable to effectively operate. "We needed to be prepared for the next big storm, so I applied for the grant, and was very pleased we got it. This DOMINATOR Track System is really going to help us. We really want to thank Homeland Security for the grant."
Installation of the DOMINATOR Track System is easy and straightforward. Users simply remove the tires and bolt on the tracks. No other modification is necessary. When the storm passes and the roads are clear, the tracks can be removed just as easily.
About American Track Truck:
American Track Truck is North America's major supplier of rubber track vehicles and conversion systems for off-road transportation in snow, mud, swamps and other terrain. The company's DOMINATOR Track Systems allow customers to easily convert a vehicle into a track truck for off-road transportation to access places where tires cannot go in deep snow and other soft-terrain environments. These track kits may be installed in less than an hour with no other modifications necessary. To find out more about American Track Truck, visit the website at AmericanTrackTruck.com.