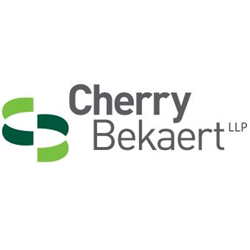 (PRWEB) December 17, 2014
As part of the continued growth of its South Florida practice, nationally recognized public accounting firm Cherry Bekaert LLP ("the Firm") is pleased to welcome Stephen Danner, Lourdes De Los Santos and Michael DeSiato as Tax Partners to the Firm's Coral Gables office.
Formerly with CBIZ Inc. and Mayer Hoffman McCann P.C., Danner and DeSiato join Cherry Bekaert after a recent acquisition that also included 23 associates. Prior to her arrival, De Los Santos was a tax director at a national public accounting firm.
"As we continue our expansion efforts in the South Florida market, it is essential for the Firm to have professionals with a strong connection to our local communities," says David W. Appel, Managing Partner of Cherry Bekaert's South Florida practice. "The addition of Steve, Lourdes and Mike helps broaden Cherry Bekaert's reach into the market with seasoned tax professionals known for delivering valuable solutions and advice to their clients.
A member of Cherry Bekaert's Real Estate and Construction industry group, Stephen Danner provides guidance to partnerships and limited liability companies for real estate activities. Possessing over 30 years of national and regional public accounting firm experience, he has helped numerous closely-held companies reduce their current income taxes while planning for a successful transition or sale of the business. Also an expert in tax and estate planning with an emphasis on preserving wealth, Danner is well versed in creating charitable planning strategies related to estate planning and creditor protection. Danner received a Bachelor of Arts in Economics and Master of Business Administration at Tulane University. A licensed Certified Public Accountant and Certified Financial Specialist, he is a member of the American Institute of Certified Public Accountants ("AICPA") and Florida Institute of Certified Public Accountants ("FICPA"). Danner is also a board member, treasurer and chair of the Finance Committee of Carrfour Supportive Housing, and board member, Executive Committee member, chair of the Endowment Committee, and Investment Committee member of the United Way of Miami Dade.
With more than 20 years of public accounting experience, Lourdes De Los Santos specializes in serving middle-market companies and being a trusted advisor for personal tax planning and compliance needs. Her taxation expertise includes closely-held businesses, partnerships, S-Corporations, financial institutions, high-net-worth individuals, real estate and construction industries and multistate large corporations, as well as international tax compliance. Earning a Bachelor of Accounting degree and Master of Science degree in Taxation, De Los Santos is a graduate of Florida International University. A Certified Public Accountant, she maintains professional memberships with the AICPA, FICPA and Estate Planning Council of Greater Miami. Within the South Florida community, De Los Santos is heavily involved in the Greater Miami Chamber of Commerce and as a board member with the March of Dimes' Miami-Dade Monroe Chapter.
A member of the Firm's Real Estate and Construction industry group, Michael DeSiato focuses on tax planning and compliance for growing middle-market companies. With over 35 years of public accounting experience, he advises clients on asset and estate tax planning, tax reduction strategies, tax credits and incentives, and personal financial and exit planning matters. Further, DeSiato has experience working with clients in the real estate, construction, manufacturing, distribution, travel and broadcast industries. Holding specialty designations including Certified Public Accountant, Certified Exit Planner and Certified Financial Planner, DeSiato is a member of the AICPA, FICPA and Construction Financial Management Association. In addition to speaking at various conferences for professional organizations, he has authored articles on tax matters for local and national publications, is treasurer of the Construction Financial Management Association (Miami-Dade Chapter), and was former president of the Greater Miami Tax Institute. An alumnus of Florida International University, DeSiato received a Bachelor of Accounting degree and Master of Science degree in Taxation.
About Cherry Bekaert LLP
As a nationally recognized, growth-oriented firm, Cherry Bekaert has the resources to take your business as far as you want to go. The Firm's industry specialists already know your marketplace, so they can help you make the most of emerging opportunities while minimizing compliance headaches. With their down-to-earth style and wealth of practical advice, you will find Cherry Bekaert an indispensable part of your team.
Ranked among the largest accounting firms in the country, Cherry Bekaert specializes in offering solutions that impact their clients' ability to grow. For more than 65 years, global corporations, private businesses, government entities, nonprofits, emerging firms and successful individuals have relied on Cherry Bekaert to guide them forward as their growth partner.
Cherry Bekaert LLP is an independent member of Baker Tilly International. Baker Tilly International is the world's 8th largest accountancy and business advisory network by combined fee income of its independent members. Baker Tilly International member firms specialize in providing accountancy and business advisory services to entrepreneurial, growing businesses and mid-market listed corporates worldwide. | cbh.com