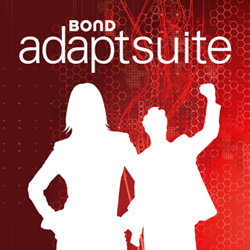 Atlanta, GA (PRWEB) January 06, 2015
Bond International Software, the global recruitment, HR and Payroll specialists, released Bond AdaptSuite staffing software Version 3.0 with new enhancements that enable temporary staffing and recruiting agencies to make configuration changes to the software based on their specialized needs yet easily upgrade the base software whenever a new update is released.
One of the most vexing issues for staffing and recruiting agencies is related to the specialized processes that each may employ in their business, and how their software handles these needs. No single standard software can possibly meet every business process variable out of the box. As a result, the staffing and recruiting software is often configured to meet those process needs.
However, when a staffing or recruiting agency wants to make changes to their processes, such as when adding a new line of business, they have to determine if their current software can support the initiative(s), and how much it may cost to implement those changes. Further, previous configurations made to the software can complicate the upgrade, as they may create conflicts with the upgraded software. This adds unwanted difficulty and costs to the upgrade. With these hurdles in mind, agencies may delay upgrading their software, reducing the ability of the agency to leverage any new advances in a software upgrade. Delaying software upgrades can also increase the total cost of the software and its support for both the agency and the software provider.
Bond's AdaptSuite staffing and recruiting software offers a solution to this challenge in its 3.0 release. For example, AdaptSuite can be configured to mirror and support a staffing and recruiting agency's processes through its new Composition functionality. This gives agencies the ability to modify the visual appearance of the system to the end user. Equally important, AdaptSuite's new Configuration Override functionality allows the creation of configurations supporting agency business processes to be maintained when the base software engine is upgraded. Thus, the agency is easily able to upgrade its base software while preserving its own unique software configurations.
Steve Taylor, Bond International Software Inc. president and CEO stated that "the ability of staffing and recruiting firms to configure their software to their needs is an important attribute. With AdaptSuite's new ability to maintain those configurations whenever the base software is upgraded, Bond has removed much of the hassles and a significant chunk of the costs associated with software upgrades."
For more information on Bond AdaptSuite recruiting and staffing software or to schedule a demonstration, please visit http://www.bond-us.com or call 800-318-4983.
###
About Bond International Software PLC (UK, AIM: BDI)
London stock-market listed Bond International Software has been a global provider of Recruitment, HR and Payroll software & services for 40 years.
Bond is one of the largest, and most established, global specialists in staffing software for recruitment agencies worldwide and is a rapidly growing provider of web-based e-recruitment and talent acquisition software to the corporate market. Bond also provides established HR and payroll outsourcing services and software directly to both the public and private sectors. For more information please visit http://www.bondinternationalsoftware.com.
Bond International Software, Inc. is the U.S. operating company for Bond, with headquarters in Atlanta, Georgia. Bond U.S., with more than 100 employees, supports nearly 600 customers and 20,000 users. For more information please visit http://www.bond-us.com.
For further information, please contact:
Phil McCutchen, Marketing Manager
Bond International Software, Inc.
phil.mccutchen(at)bond-us(dot)com
1-800-318-4983 x1112 or 770-246-2319