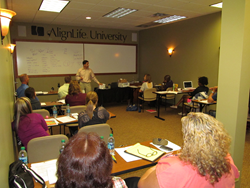 "It is no longer a question of IF you are toxic or not, it is HOW toxic are you?".
United States (PRWEB) December 18, 2014
Evidence suggests that many carry high levels of toxins, such as styrene, dioxin, xylene, and dichlorobenzene in their tissues. Not only is it proven that an overwhelming majority of people have stores of toxins in their bodies, but it as also been proven by clinic research that these toxins may cause cancer and many other life-threatening diseases.
AlignLife believes when it comes to health, awareness, education and prevention are the most powerful tools. Toxicity is not a matter to be taken lightly. Although it is largely ignored at this point in time by conventional medicine, the consequences for ignoring this health risk may ultimately lead down the path of struggling through life with the common symptoms of chronic fatigue, mood disorders and obesity or potentially life threatening diseases and premature death. Dr. Joseph Esposito, founder of AlignLife, states "It is no longer a question of IF you are toxic or not, it is HOW toxic are you?".
On January 12th at 6pm, AlignLife clinics nationwide will be hosting a community workshop on Toxicity. The doctors and staff at AlignLife are so passionate about equipping their communities with the proper resources for optimal health they are giving away a Caribbean Cruise for two. Whats the catch? No catch, every single workshop attendee will be entered into the drawing. A woman in Waunakee, Wisconsin won the drawing last year.
At this workshop attendees will learn where the most common toxins are coming from, the harm they cause and how to avoid them. This workshop will go steps further and teach how to rid the body existing toxin build up and reverse effects they have caused.
Call 877-254-5464 to locate an AlignLife clinic near by today and reserve your seat for January 12th at 6pm.
ABOUT ALIGNLIFE
AlignLife is a chiropractic and natural health franchise founded in 2007 with the mission to provide the highest quality of natural healthcare services to communities around the nation. The integration of chiropractic with other natural health services has proven to save time and money while reducing the hassles of dealing with the complex American health care system. AlignLife is operated by founder and CEO, Dr. Joseph Esposito and President, Dr. Cristina Esposito. For more information or to find a clinic near you go to http://AlignLife.com.