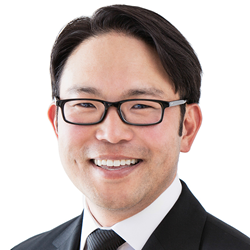 Machines and technology do not advocate for the real estate community and property owners' rights, realtors do.
San Francisco, CA (PRWEB) December 17, 2014
Climb Real Estate agent Eugene Pak has been elected as the president of the San Francisco Association of Realtors (SFAR) for 2016 and will serve as President-Elect throughout 2015.
"I look forward to serving as the President-Elect next year and President in 2016. I look forward to helping our community move forward and become an even better resource for agents and San Francisco as a whole," said Pak. "I have served for the past several years on a number of committees both as a member and as a chairperson and the experience has been invaluable. I have learned a great deal about the real estate industry as a whole, and better yet, I have made some very good friends with people I have not interacted with beyond doing a transaction together. All this has made me a better agent which in turn is better for my clients and my fellow realtors."
Eugene Pak is currently the director of Business Development at Climb, an SFAR director, the chair of the Governmental Relations Committee, and the CAR director for the San Francisco region. He was previously the chair of the Standard Forms Committee and a director for the Asian Real Estate Association of America.
"We are thrilled to have Eugene Pak represent Climb as the President of the San Francisco Association of Realtors for 2016," said Chris Lim, founder of Climb Real Estate Group. "He has a proven ability to create strategic clarity, drive innovation and growth, ensure disciplined execution, and deliver results. We believe that his passion for real estate will help make a positive impact on all the member's professional lives."
Pak added, "Through volunteering at SFAR and CAR and other real estate organizations, I am constantly reminded of why realtors matter. Machines and technology do not advocate for the real estate community and property owners' rights, realtors do. I am definitely a better agent which in turn better serves my clients and the real estate community."
Eugene Pak was born and raised in the New York City area and moved to the Bay Area in 1991 where he attended UC Berkeley and earned a degree in Rhetoric. From there he worked as a paralegal and worked his way through Golden Gate School of Law. After earning his law degree, he decided to forgo the traditional law firm path and consulted for Fortune 500 wireless companies such as Sprint, AT&T Wireless, and Nextel. He advised his clients on site acquisition for building their wireless infrastructures and negotiated the lease and purchase terms with the commercial property owners. He then transitioned into residential real estate in 2002 and joined Climb Real Estate in 2012. Pak is also an active supporter of Habitat for Humanity and the San Francisco Food Bank. He currently lives with his wife, Cindy, and their dog, Chance, in Crocker Amazon.
ABOUT CLIMB REAL ESTATE
Climb Real Estate Group is a recognized leader in the marketing and sales of Bay Area residential real estate. The San Francisco-based independent and locally-owned brokerage is proud to be the leader in the purchase and sale of a diverse array of homes: from $80,000 parking spots to million-dollar mansions, new development studios to luxurious view penthouses, live/work lofts to charming bungalows and single-family homes. With over 11 years of experience in marketing and collective sales in excess of a billion dollars, Climb Real Estate Group offers unparalleled marketing and sales expertise with offices in Potrero Hill, Noe Valley, Mission Bay, and Oakland's Jack London Square.