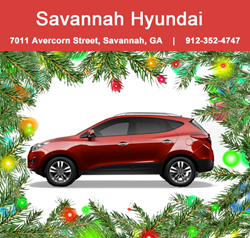 We are keeping it simple this year! Great year end sales, easy terms. --- Mark Medinger, Savannah Hyundai
Savannah, GA (PRWEB) December 17, 2014
It's the end of the year and car dealerships across America are making one last big push to sell, sell, sell. Savannah Hyundai is offering a unique deal. "We can get you into a new Hyundai if you put $149 down and have a job," explains Mark Medinger, owner of Savannah Hyundai. "With approved credit, our customers can drive away in a brand new car!"
Savannah Hyundai, located at 7011 Abercorn St in Savannah, Georgia, is hoping to reach more customers with this new special. "We have new slogan around here, Savannah Hyundai: Where Everybody Rides," says Medinger, "This means we are committed to helping everyone who walks through our doors get a new Hyundai. We have new financing options to help qualify even more drivers for a new car!" Savannah Hyundai believes in helping their customers rebuild their credit with great financing opportunities and low down payments.
According to websites, like USAtoday.com and USAA.com, the end of the year is one of the best times to buy a new car. Many car dealerships are offering special financing and leases this holiday season in order to meet sales quotas and receive bonuses. USAtoday.com states "If you can wait, buy your new car in the last two weeks of December, when dealers are dying to beat their quotas." And USAA.com notes that "incoming newer models may be in greater supply, making their pricing more flexible." Greater variety and more selection make buying a car at the end of year more appealing to customers. Savannah Hyundai has both 2014 and 2015 models on their lot.
"Along with our $149 down special, we are also offering a $199 lease on the new 2015 Hyundai Tucson," says Medinger. The 2015 Hyundai Tucson lease special is $199 a month with $2400 down at signing. The 2015 Hyundai Tucson is a crossover vehicle that comes with air conditioning with a cabin air filter, Bluetooth® hands-free calling and streaming audio, steering-wheel-mounted audio and cruise controls.
Savannah Hyundai is Georgia's flagship Hyundai dealership and serves the entire Savannah area including Rincon, Statesboro, Bluffton, Fort Stewart, Hinesville and Hilton Head. Their $149 down plus a job special is going on all month long. To schedule a test drive or view their inventory visit their website at http://www.savannahhyundai.com.