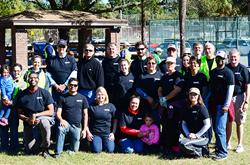 For more than a century now, HNTB Corporation has helped create infrastructure that best meets the unique needs of our clients and the communities where we live and work
(PRWEB) December 17, 2014
"For more than a century now, HNTB Corporation has helped create infrastructure that best meets the unique needs of our clients and the communities where we live and work," said Rob Slimp, CEO. "That commitment has never been stronger."
Recognizing its 100th birthday last January was just the beginning of a year-long celebration, which has since included a host of community service programs and moving forward on many high-profile infrastructure projects across the United States.
"We are proud of the fact that for 100 years our employees have supported their hometowns through professional, civic and personal contributions," Slimp said. "And we will continue to do so long into the future."
Investing in the community: Giving back
Having committed to a target of at least 100 hours of community service throughout 2014 to recognize the firm's 100 years of existence, and exceeding that target, HNTB volunteers from dozens of offices around the country set to work early and often by actively participating in regional events sponsored by professional organizations and other community organizations, such as Junior Achievement, the United Way and Christmas in October.
Many events have focused on youth education, disaster recovery and hunger relief. Examples include:

Engineers from the firm's Dallas area offices regularly team up with students at the Yvonne A. Ewell Townview Magnet Center's School of Science and Engineering to introduce them to the Architectural, Engineering and Planning industry. This is accomplished through hands-on activities and events, integrating academic and workplace activities that involve all aspects of science, technology, engineering and mathematics. One real-life project nearly 20 students worked on with HNTB engineers was the Dallas Area Rapid Transit's South Oak Cliff Blue Line Extension. Some of the students' recommendations may be used in the actual design of a new rail station.
Last spring, professionals from the firm's Kansas City office participated in the Youth Minority Engineering Night, hosted by the National Society of Black Engineer's at the Kauffman Foundation in Kansas City, Missouri. A presentation and activity introduced civil engineering to high school students from inner city schools. Students also learned about electrical engineering, mechanical engineering and computer science.
Mindful of the continuing impact of Superstorm Sandy on residents of New York City's coastal neighborhoods and the New Jersey's coastal communities, HNTB professionals helped rebuild the lives of people impacted by this devastating event, partnerships with the New York City Office of Sandy Recovery Services and Habitat for Humanity chapters in Monmouth and Ocean Counties, New Jersey. Working with experienced home construction supervisors, HNTB teams have worked on projects that included preparatory and structural work required prior to raising a house that is to be completely rebuilt, installing kitchen cabinets, rebuilding stairs and putting the finishing touches on a major rehab of damaged homes.
Last May, HNTB employees from Virginia and the District of Columbia participated in a day-long "Work-a-Thon" with Hands On DC, an all-volunteer, nonprofit organization dedicated to improving the physical condition of public schools in Washington, D.C. The HNTB team designed and constructed 75-by-3 foot raised planter box for the Francis Stevens Education Campus in Foggy Bottom. The garden now grows vegetables and flowers for the school and serves as an educational tool for science classes.
In Orlando, with Keep Orlando Beautiful, HNTB employees led a cleanup in November of Lake Lorna Doone Park adjacent to the HNTB-designed Citrus Bowl reconstruction project.
HNTB's Chicago office volunteers worked as mentors with a group of 15 local students on a library rehabilitation project. Additional Chicago-area projects included helping students plan cities, and introducing 9-to-13-year-old-girls to engineering and transportation careers.
On Dec. 13, HNTB volunteers honored fallen military service members by participating in the Wreaths Across America event at Arlington National Cemetery, one of many wreath laying ceremonies nationwide to recognize the ultimate sacrifice made by so many on our behalf. HNTB also is providing architectural and engineering services for the cemetery's southern expansion.
Investing in infrastructure: HNTB's winning ways
HNTB's next 100 years also are beginning to take shape.
The firm is moving forward by contributing to some of the biggest, most complex transportation infrastructure projects currently under way. The firm continues to help transform American transportation and infrastructure, including the new Sixth Street Bridge in Los Angeles; the Kosciuszko Bridge in New York; the LYNX Blue Line light rail extension in Charlotte, N.C.; the Interstate 95 Express Lanes in Florida, and the new Levi's Stadium for the San Francisco 49ers in Santa Clara, Calif.
Major project wins in 2014 included selection as the general engineering consultant to the North Texas Tollway Authority, program manager for the study of a PATH extension to Newark Liberty International Airport for the Port Authority of New York & New Jersey, the designer of the Interstate 94 Downtown Reconstruction project in Detroit for the Michigan Department of Transportation, managing Georgia Commute Options, an innovative transportation demand management program, for the Georgia Department of Transportation, and as the designer of the Arizona State University Sun Devil Stadium improvement project, among others.
HNTB employs nearly 3,700 people nationwide and consistently ranks as the No. 1 consultant to departments of transportation and toll authorities nationwide, serving as the general engineering consultant to more tolling agencies than any other firm.
About HNTB
HNTB Corporation is an employee-owned infrastructure firm serving public and private owners and contractors. Celebrating a century of service, HNTB understands the life cycle of infrastructure and addresses clients' most complex technical, financial and operational challenges. Professionals nationwide deliver a full range of infrastructure-related services, including award-winning planning, design, program management and construction management. For more information, visit http://www.hntb.com.