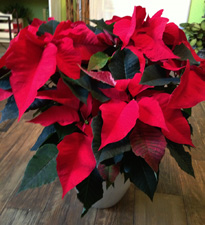 With proper care poinsettias and amaryllis can provide enjoyment for weeks after the holidays are over. ---Amy Herman
Monticello IN (PRWEB) December 18, 2014
A beautiful and much-appreciated gift for the holidays is a blooming potted flower such as a poinsettia or an amaryllis. Following a few simple suggestions from the professionals at Norway Gardens in Monticello IN, will result in several extra weeks of enjoyment from these plants -- at a time when Midwestern winters can be drab and monochromatic, filled with shades of dull gray. A little extra attention makes a large difference is being able to enjoy the magic and color of blooming flowers well past the holiday season.
Poinsettias
Proper watering and lighting are the key to keeping a poinsettia lovely for several weeks following the Christmas season. Begin with a good-quality poinsettia from a reputable florist or grower. How the plant has been cared for as it was growing will make a big difference in how well it performs in the home. The best spots for poinsettias at home are areas that get 6 hours of indirect sunlight. Futhermore, poinsettias don't like drafts of cold or any heat ducts close by. In addition, they can be harmed if their leaves or petals touch the cold glass of the window. Ideally the temperature should be between 60 and 70 degrees.
Poinsettias like moisture but not too much of it. If a poinsettia pot is wrapped in foil, that covering should be punctured and the plant put on a saucer so it can drain properly. It should be watered only when it feels dry and any excess water that drains into the saucer should be discarded. A once-a-month fertilizing with a good well-balanced fertilizer such as Jack's Classic or Fertilome 20-20-20 can also be helpful.
Amaryllis
What fun amaryllis can be! The bulbs are easy to plant and one can almost watch these plants growing. Each day is a new revelation. After the flower stalks start growing, they quickly mature and produce stunning balls of colorful bloom. These are special treats since they bring splashes of color to one's home during the winter months.
Select a large, firm amaryllis bulb. Norway Gardens offers extra large bulbs that produce a profusion of blooms and generally two or more stalks of flowers. Select a pot a little larger than the amaryllis bulb and fill it 1/2 full with a good potting mix. Place the bulb, tip side up, in the center of the pot. Add soil around the bulb until only a good 1/3 of the bulb is left protruding above the soil. Water the pot well with room-temperature water until the extra water begins to come out of the the bottom hole in the pot. Put the potted amaryllis is a sunny winter (south exposure is great) and keep the soil in the pot moist but not too wet.
After the bulb has finished all its blooming, cut back the flower stalks but continue to care for the plant. After danger of frost is over put the pot outside for the summer. After the first frost bring bring the pot back inside and put it in a dark part of a basement or garage. After it has been there for 8 to 10 weeks, it may be brought into the home again and watering can be resumed. It is now ready to provide another season of gorgeous bloom.
These lovely holiday plants will continue to bring joy for a long time after Christmas. Merry Christmas from all the staff at Norway Gardens!