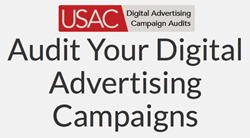 Nearly every major bricks and mortar campaign is audited. Digital is way behind the curve and this is why there is widespread fraud. Sean Shaub, US Audit Corp. CEO
Houston, Texas (PRWEB) December 17, 2014
US Audit Corp., today announced a groundbreaking new service that enables companies to get money back for Digital Advertising Fraud. The new service is available to large and small buyers of Digital Advertising.
As widely reported, 30% or more of Digital Advertising expenditures are spent on fraudulent, criminal networks. Large advertisers are wasting millions of dollars annually.
"We believe third party audit will drive accountability in digital. Nearly every major bricks and mortar campaign is audited. Digital is way behind the curve and this is why there is widespread fraud." said Sean Shaub, US Audit Corp. CEO.
US Audit Corp. provides retrospective audits of digital advertising campaigns using proprietary audit tools that have not been previously available to advertisers. Customers simply provide a summary of their Digital Advertising expenditures looking back five years and the Company then interacts with Agencies, Networks and Exchanges to retrieve historic data, determine the exact recovery and begin the recovery process.
Shaub goes on to say, "Fraudulent impressions and clicks are vastly understated and our systems, processes and technology provides an avenue for our customers to obtain refunds for these fraudulent expenditures. Small and large companies that spend money on Digital Advertising need to consistently and comprehensively audit their digital advertising campaigns and recover the over billed amounts. We can recover fraud related expenditures, no matter the size of your company."
Having developed well established strategic partnerships with major accounting firms, US Audit Corp. provides services to both domestic and multi-national companies.
About the Company
US Audit Corp., Headquartered in Houston, Texas, provides audits and reviews of vendor data and internal controls in accordance with applicable professional standards. Audits are planned to be responsive based on the understanding we gain of the customer's organization and its environment, including its internal controls. We utilize this understanding to design the nature, timing and extent of our audit procedures. We work closely with our customers, while maintaining an objective and independent attitude and encourage open communication during the course of our services. We also strive to provide timely communications regarding industry driven developments and insights regarding matters that may affect an organization's business expenditures and strategies. US Audit Corp. is a subsidiary of MiMTiD Corp.
For more information, visit us at http://www.USAUDITCORP.COM.