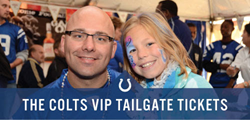 Indianapolis, IN (PRWEB) December 17, 2014
Bullseye Event Group, the Official Events and Travel Partner of the Indianapolis Colts, congratulates the Indianapolis Colts on becoming the AFC South division champions for the second season in a row, and will host the Colts VIP Tailgate before the AFC Wild Card game played at Lucas Oil Stadium.
Tickets are immediately available at BullseyeEventGroup.com for both the AFC Wild Card or Divisional Playoff football game and the Colts VIP Tailgate, date TBA in January, 2015.
Bullseye Event Group hosts the Colts VIP Tailgate three hours before game kickoff at the Crane Bay Events Center, a short walk from Lucas Oil Stadium. Colts fans are treated to a 5-star food menu and premium refreshments, and get ready for some football in a fun, family-friendly environment.
The Colts VIP Tailgate features:
● Premium food buffet provided by Ruth's Chris Steakhouse and Another Broken Egg Cafe
● 5-star menu includes favorites such as Kobe Beef sliders, Ruth's Chris Filets, Shrimp and Grits, Scrambled Eggs, Caesar Salad, Mashed Potatoes, Macaroni and Cheese
● Open, top-shelf cocktail bar hosted by Jim Beam
● Open beer and wine bars featuring bottled beer and bottled wine from Miller Coors and Heineken
● Refreshments from Coca-Cola
● Visits from Colts cheerleaders, former Colts players and NFL alumni
● Live broadcasts of ESPN 1070's The Fan with JMV and Big Joe Staysniak
● Pre-game HD TV coverage
● Live auctions of signed Indianapolis Colts memorabilia
About Bullseye Event Group
Bullseye Event Group is the Official Events and Travel Partner of the Indianapolis Colts. As a secure, official source for travel, hotel, pre-game parties and tickets, Bullseye Event Group is a direct and dependable source for The Colts VIP Tailgate, Super Bowl XLIX packages, The Players Super Bowl Tailgate, the Masters and event tickets, delivering unforgettable experiences to fans. To learn more, visit BullseyeEventGroup.com.