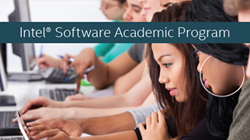 (PRWEB) December 18, 2014
A new case study from Intel illustrates the potential for next-generation models of education that transcend organizational and geographic boundaries. The Intel® Software Academic now offers courseware from Arizona State's intensive short summer course, Embedded Systems Programming at China's Zhejiang University.
The course gives participants hands-on experience with embedded programming using the Intel ® Galileo development board as the target system. The opportunities in this area of work are clear, and as Professor Yann-Hang Lee remarks, "Given the software and hardware we have, building embedded systems is relatively easy, and we can have a lot of creative applications. So, embedded systems are becoming widespread, distributed, connected, and heterogeneous."
The series of lectures, labs, and self-study begins with conceptual design issues and moves through the whole rest of the development life cycle, including programming, testing, debugging, and optimization. Arizona State makes the complete set of courseware materials available online at http://rts.lab.asu.edu/web_ESP_Summer2014/ESP_Main_page.htm.
The concepts and skills provided through this course include understanding the real-world context for embedded programming as well as developing solutions in that environment. Particular focus is placed on effectively interacting with system resources, including multi-threaded development for concurrent operations. The comprehensive approach taken by the course helps position students to take advantage of the accelerating pace of innovation, as the Internet of Things and other embedded usages continue to grow in importance.
For more information on the Intel® Software Academic Program, please visit: https://software.intel.com/en-us/academic.
Copyright © 2014 Intel Corporation. All rights reserved. Intel and the Intel logo are trademarks of Intel Corporation in the U.S. and/or other countries.
*Other names and brands may be claimed as the property of others.