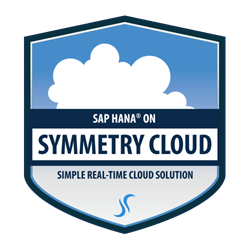 Milwaukee, WI (PRWEB) December 17, 2014
In the commitment to continuously deliver premier hosting and managed services to our valued customers, Symmetry is proud to launch SAP HANA on Symmetry's Cloud; allowing never before offered affordable pricing options to enterprises seeking the real-time data query and analysis capabilities provided by a SAP HANA solution. Symmetry, a certified SAP hosting, cloud and SAP HANA® operations services partner and industry leader in SAP Basis managed services, is excited to have built a world-class SAP HANA Cloud infrastructure exclusively for SAP customers.
Symmetry customers are now able to capitalize on the speed, agility, and real-time processing of SAP HANA without the expense of investing in hardware and certified technical managed services to provide ongoing steady state support required to implement and maintain the in-memory solution.
Symmetry's SAP HANA Cloud solution leverages SAP HANA technology at an affordable cost by utilizing only the hardware requirements from the current SAP landscape. Symmetry's cloud infrastructure frees the need of committing to a specific hardware footprint and in some cases saving up to 50% of comparable hardware costs. Symmetry is the only SAP HANA certified vendor able to offer flexible solutions from 64 gigabytes to 12+ terabytes.
"SAP customers are looking to the impressive capabilities SAP HANA has to offer," said Frank Powell, Symmetry CEO. "SAP HANA on Symmetry's Cloud combines the best of Symmetry's premier hosting and managed services with world-class cloud technology. This solution was built with the end customer in mind by delivering a ground-breaking hardware solution with double – digit cost savings, allowing a SAP HANA solution to be a realistic possibility for medium sized enterprises."
The scalability of SAP HANA on Symmetry's Cloud allows customers to have the power to rapidly and affordably scale the system as needed to meet changing business conditions, without having to make expensive and disruptive additional hardware purchases. SAP HANA on Symmetry's Cloud can also provide a cost savings of 30% when compared to other traditional SAP HANA solutions. Symmetry's SAP HANA Cloud infrastructure has the flexibility built in by being able to be scaled up or down quickly, easily and affordably.
"Symmetry is excited to launch a one of a kind SAP HANA cloud solution. Our SAP HANA certified experts have taken the daunting task of implementing, maintaining and ongoing steady state support out of the SAP HANA purchase decision," said Nick Miletich, Director of Solution Architecture Symmetry.
Interested customers are encouraged to take part in Symmetry's Rapid Deployment Proof of Concept lab or setup a personalized One-On-One Solution Meeting, with a Symmetry solution architect to road map current systems into Symmetry's cloud. Visit http://symmetrycorp.com/sap-outsourcing/products/sap-hana/ for more information.
About Symmetry
Symmetry, an SAP Services Partner Certified in Hosting, Cloud and SAP HANA® Operations Services, provides technical managed services, security administration and project consulting in support of SAP solutions for customers in the U.S. and around the world. Based at Symmetry's Center of Expertise in Milwaukee, Wis., our large staff has extensive experience in Basis, the SAP NetWeaver® technology platform and security consulting. With a proven methodology for delivering technical managed services in support of SAP software, Symmetry delivers flexible, high-quality solutions that help reduce the total cost of ownership and enable high-performing, secure, stable SAP solution-based environments. Learn more http://symmetrycorp.com/.
Contact: Kristin Taner
ktaner(at)sym-corp(dot)com
414-732-2730
Sym-Hosting and Sym-Remote are service marks of Symmetry Corp. SAP, SAP NetWeaver, and all SAP logos are trademarks or registered trademarks of SAP AG in Germany and several other countries. All other marks are the property of their respective owners.