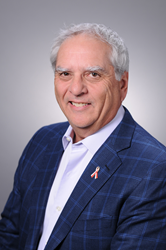 Rockville, MD (PRWEB) December 16, 2014
Dr. Steven N. Rice of Advanced Laser Gum Surgery Institute of Washington is excited to announce that he now offers revolutionary treatment for gum recession. He is one of the few periodontists in the nation to perform the new therapy called Pinhole Surgical Technique (PST™). This treatment replaces traditional gum grafts, and has great success rates. Patients in Rockville, MD who undergo receding gums treatment heal quickly and experience minimal discomfort.
PST™ is a therapy that heals recession without any cutting, grafts, or sutures. Rather than cutting out a section of the roof of the mouth and sewing it onto the gums, PST™ is a way to gently reposition the gums that are already in the area. Dr. Rice must only insert a tiny pinhole above the gum recession. He is skilled in working through the hole to lift the gums away from the bone and guide them into a placement where they cover the exposed roots. When he finishes, the gums are left to heal into the new position. Since there is little disruption of the tissue, they heal quickly.
One of the things patients worry about the most before dental appointments is pain. Patients experience only minor discomfort when they have receding gums treatment in Rockville, MD. Dr. Rice provides anesthetic through shots to ensure that the appointment is comfortable. Following PST™, patients have very little swelling or discomfort. In fact, most patients find that they can continue their typical activities without interruption. Having gum recession treatment early is the best thing patients can do to reduce discomfort even further. Recession is rarely painful in its early stages, and the sooner people visit a periodontist for help, the easier the treatment is. Dr. Rice can take care of patients in any stage of periodontal disease, but he recommends seeking help at the first sign of problems. Those who wait for pain before they seek help often have more issues that must be addressed.
Those who would like information about getting receding gums treatment in Rockville, MD are welcome to visit Dr. Rice's website or call his office. Dr. Rice is currently accepting new patients, so he is happy to schedule no-obligation consultations. He is also always willing to answer questions and educate his patients.
About the Practice
Advanced Laser Gum Surgery- Institute of Washington is a periodontal practice offering patients personalized dental care in Rockville, Maryland since 1981. Dr. Steven N. Rice received a Doctor of Dental Surgery degree from the University Of Maryland School Of Dentistry. He continued his education as a General Practice Resident in the United States Army, where he was awarded a Medal of Commendation. He studied periodontics at the Medical College of Georgia and was recognized as a Diplomate of the American Board of Periodontology upon completion. Dr. Rice is part of one percent of dental professionals providing the LANAP® FDA cleared laser procedure for gum disease treatment. To learn more about Advanced Laser Gum Surgery Institute of Washington and their dental services visit their website at http://www.advancedgumsurgery.com or call (240) 747-7355.