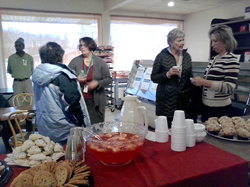 Akron, OH (PRWEB) December 17, 2014
It wasn't all about the food at the December 8th Open House for Mature Services' new Nutrition Center, but the food was delicious. People gathered to take a tour of the new facility located at 1155 E. Tallmadge Avenue here in Akron, where hundreds of meals are prepared fresh daily and delivered to the homes of older adults in our community. Many were surprised by the volume of people served - 96,229 home delivered meals last year alone, and the numbers keep growing. Then there are the 40,031 meals delivered to congregate sites throughout the community.
"It's no wonder they needed to expand to a newer facility," was a comment overheard.
Hilda Kaufman, wife of Edward Kaufman, former President/CEO of Mature Services, was reminiscing about the early days of the agency when her husband was determined to serve Thanksgiving dinner and deliver food to those who could not come in.
"I marvel at the accomplishments that have been made," she said. "Ed would have loved this." (Kaufman passed away in June 15, 2010.) "It's something that just keeps going and going."
Ranging from Philly-steak sandwiches and slices of tender pork loin, to steamed mixed vegetables, seasoned potato wedges and sweet potatoes cooked in a wonderful maple dressing, there was a wide range of food available at the event. Attendees aren't going to forget about the dessert spread anytime either, with a selection of homemade pastries that included vanilla scones and delicious mint chocolate brownies.
"These are samples of the types of food we prepare and deliver to our clients every day," Catherine Lewis-Beaverly, Director of Nutrition pointed out. "We also provide them with menus, so they can customize their meals, and we provide special meals for those with dietary restrictions," she added.
"We are really proud of our Nutrition program," said Linda Valentine, current President/CEO at Mature Services. "Our food and supplies are purchased locally wherever possible, which helps keep the money in our community and ensures that only the freshest ingredients go into our meals. As we saw the demand for this service growing we wanted to be ready," she added, "and thanks to a number of local funders we were able to equip this new center to meet that expanding need."
"We are promoting the national Subaru "Share the Love" event as part of our Open House," added Lewis-Beaverly, "because if you purchase or lease a new Subaru between now and January 2, and Subaru will donate $250 to your choice of participating charities. We hope people with choose to fight senior hunger. When Subaru gives back to Meals on Wheels of America in turn they distribute that money to their association members such as us."
For more information on how to get Home Delivered Meals through Mature Services call 330-785-9770 or go online to http://www.matureservices.org/nu/nutrition.php. To more information on the Meals on Wheels/Subaru "Share the Love" campaign go to http://www.mowaa.org/subaru-socialmedia.
Mature Services provides high-quality programs to empower the economic, social, physical, and mental well-being of adults as they age, and their website is http://www.matureservices.org .