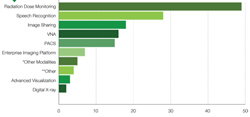 "Healthcare organizations spend billions on imaging, and this report helps shed some light on exactly where that money is going to be spent in 2015"
AMERICAN FORK, Utah (PRWEB) December 17, 2014
Dec 17, 2014 — A new report predicts where American hospitals will spend billions on imaging technology in 2015.
The report from Smart Data pioneer peer60 indicates that Radiation Dose Monitoring software is poised for an unprecedented year of purchasing activity, while Image Sharing and Speech Recognition solutions should also experience significant gains. The report predicts not only what will be purchased but also which vendors are ideally positioned to get this business.
"Healthcare organizations spend billions on imaging, and this report helps shed some light on exactly where that money is going to be spent in 2015," said peer60 CEO Jeremy Bikman. "Some vendors certainly are poised to make serious gains this coming year, while others are going to be in for a bit of a struggle."
The report was compiled based on a survey of 370 hospital CIO's, Radiology Chairs and other decision-makers collected during a two week period at the end of October. Participants were asked which imaging software products their facilities would buy in 2015. For all products they planned to purchase, participants were asked who their current vendor is and who they are presently considering as a future vendor. In addition, participants named specific vendors they feel are the most innovative vendors in medical imaging.
"This study allows vendors the opportunity to see what the market really thinks of their efforts," said peer60 Vice President Tyler Page. "With information like this they can adjust their approach to become more valuable to those they serve in the healthcare industry."
The full report is available at no cost to the public and can be downloaded at http://research.peer60.com/imaging2015/.
About These Reports
peer60 publishes reports on the healthcare industry every four to five weeks as a public service. These reports are available at no cost. If you would like to suggest a topic for a future peer60 report, email peer60 Vice President Tyler G. Page at tpage@peer60.com.
About peer60
As a pioneer in Smart Data, peer60 is committed to helping businesses acquire crucial market and customer data in a timely, affordable manner. peer60's platform enables companies to receive four times the response rate in a quarter of the time, reaching relevant audiences all around the world. Join the companies around the globe who are already getting Smart Data from peer60. For more information visit http://www.peer60.com or call (801) 692-1532.