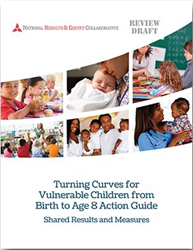 Being an NREC community partner is helping us replicate and adapt our East Side San Antonio B-8 work region-wide... this work is expanding the possibilities for the true integration of systems. -Henrietta Munoz, Ph.D
Washington, D.C (PRWEB) January 05, 2015
Turning Curves for Vulnerable Children from Birth to Age 8: Shared Results and Indicators was released today for review as the first in a series of tools being developed by the partners in the National Results and Equity Collaborative, or NREC*. This review draft includes a set of core results and indicators that can be used to align multiple initiatives and achieve broader and faster results in communities working to increase positive development and school success for vulnerable children from birth to age 8.
The draft action guide is being shared for broad review as a launching point to accelerate local efforts to define and align common results and track progress across multiple and often parallel or disconnected initiatives. While there is value to common language and indicators that can be aggregated across sites, such as those included in the review draft, communities are also encouraged to refine the list, building on existing efforts and activating effective, coordinated and strategies that get results.
Before issuing this document in final form, the NREC partners are seeking review by colleagues, leaders and policymakers, funders and others. Reviewers are invited to both review the draft and to share their thoughts and suggestions on the NREC website here: http://resultsandequity.org/shared-results-and-measures-review/
The website is also home to a new Guide to Results-Based Planning and Facilitation for "Birth to Age 8" results and will continue to feature additional technical assistance tools and resources from NREC partners and allies.
"Being an NREC community partner is helping us replicate and adapt our East Side San Antonio B-8 work region-wide. Access to existing knowledge from both peers and diverse national organizations, combined with the opportunity to co-create additional tools and knowledge, increases our chances for sustainability because this work is expanding the possibilities for the true integration of systems," shared Henrietta Munoz, Ph.D., Vice President, Grant Research and Evaluation, United Way San Antonio and Bexar County, TX.
NREC and its partners are using, collecting and creating tools to help communities make measurable improvements and achieve greater equity for children and families. One of the founding NREC goals is to create a common language, approach and suite of tools to support the work of local leaders. The collaborative believes that this alignment will enable national intermediary organizations and Technical Assistance providers to avoid using competing approaches that can slow progress.
For more information contact:
Nina Sazer ODonnell
National Results and Equity Collaborative
Email: nso(at)nsoassociates(dot)com
Phone: (919)-477-7137
*The founding partners, which include national organizations (Campaign for Grade-Level Reading, Center for the Study of Social Policy, Coalition of Community Schools, Literacy Funders Network, Promise Neighborhoods Institute at PolicyLink, Results Leadership Group and United Way Worldwide) and three partner communities (Camden, New Jersey; Salt Lake City, Utah; and San Antonio Texas) have come together to align results-based tools, materials and technical assistance in the interest of accelerating the achievement of better results for children, families and communities at scale. This work has been supported with a generous grant from the Annie E. Casey Foundation.