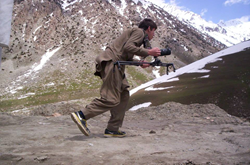 Mikai's film is a reminder of the beauty of that country and its people.
Sheridan, OR (PRWEB) December 18, 2014
Graduate and filmmaker, Mikai Karl traveled to Afghanistan last spring while doing his senior year Community Outreach project. While there, he and his father shot footage of the country and its people, and upon his return, Mikai edited the footage into a short film.
"Afghanistan is a country misunderstood, depressed by conflict, fighting for stability," says Mikai. "A country, thought of as inhospitable, is in fact home to some of the most hospitable people I have ever met. Yes, there has been war, their country has been torn, but they are a strong people, just like any other, searching for peace."
Karl's film has been viewed nearly 9,000 times on the two different Youtube channels it's listed on and over 24,100 times on Vimeo with popular sites like infinitylist.com listing it and countless other bloggers blogging about the video.
"We were just informed that his video was shown by the Afghanistan government at the London Conference on Afghanistan," says Delphian Headmistress, Rosemary Didear.
According to Gov.UK, the London Conference on Afghanistan took place on 4 December 2014, co-hosted by the governments of the UK and Afghanistan. Associated events took place during the afternoon and evening of Wednesday 3 December. At the conference, fifty-nine countries reaffirmed their commitment to supporting Afghanistan to become a secure and stable nation once drawdown is completed at the end of the year. The Conference provided a platform for the government of Afghanistan to set out its vision for reform and for the international community to demonstrate enduring solidarity and support for Afghanistan.
Headmistress Didear remarks, "Mikai's film is a reminder of the beauty of that country and its people."
To find out more about Delphian's programs or its mission to "Empower young adults to bring positive change in the world through reason, creativity and integrity," visit http://www.Delphian.org or contact the school at info(AT)Delphian.org