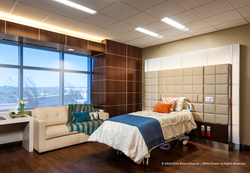 "We have been told this is far and away the most successful patient room that NRG and Forest Park Medical Center have built," says Don Powell, principal of BOKA Powell.
San Antonio, Texas (PRWEB) December 17, 2014
BOKA Powell, a Dallas-based architecture and design firm, has completed Forest Park Medical Center San Antonio, a surgical specialty care hospital and accompanying medical office building that opened this fall. Inspired by four and five-star resorts, the $98 million physician-owned and operated hospital developed by the Neal Richards Group (NRG) has a patient-oriented focus in its overall design and amenity offerings. BOKA Powell provided full architecture and interior design services for the project.
The four-story, 150,000-square-foot hospital has 54 private inpatient rooms – including 16 family suites – 12 operating rooms, a state-of-the-art cardiac catheterization lab and six intensive care rooms. Rendered in a sophisticated, modern Hill Country palette, the upscale ambiance throughout begins in the expansive two-story lobby with a dramatic full-height fountain, and extends into the dining room offering chef-prepared foods, coffee bar and peaceful outdoor spaces, including vegetated roof systems.
The private in-patient rooms and family suites are designed for maximum comfort, convenience and safety.
"We have been told this is far and away the most successful patient room that NRG and Forest Park Medical Center have built," says Don Powell, principal of BOKA Powell. "With tailored, custom furniture, state-of-the-art equipment and high-end finishes, this dramatic departure from the typical, unwelcoming hospital room puts patients at ease, making them feel more optimistic about procedures and promoting healing physically, mentally and emotionally."
Loved ones visit on plush built-in sofas next to patient beds, which convert to queen-sized beds for overnight stays. For additional privacy, family suites feature a separate room for guests equipped with a kitchenette, entertainment options and a pull-out sofa.
"Infection control in this hotel-like atmosphere is achieved by utilizing anti-microbial finishes that resemble traditional hospitality-quality materials," says Sean Kirton, senior project designer for BOKA Powell. "We also conceal medical gases and connections behind an upholstered headwall similar to a hotel bed that is lifted when in use."
Risk of injury is reduced by locating bathrooms behind the headwall. "Patients attached to medical gases and IVs may fall when crossing the room to use the toilet or shower," adds Kirton. "By locating the bathroom behind the bed, we have reduced that distance by more than 50 percent."
"We've received a great response from both patients and families who have visited our campus and received the unsurpassed quality care Forest Park hospitals have come to be known for," said Forest Park Medical Center San Antonio CEO Julie Seale. "Our state-of-the-art facility and use of world-renowned technology certainly establish our hospital as a leading provider in the delivery of unmatched care in the San Antonio and surrounding communities."
"Forest Park San Antonio was meticulously designed with patients in mind and offers them the opportunity to experience state-of-the-art medicine in a world-class facility," said Neal Richards Group CEO Derrick Evers. "Aesthetically pleasing and designed to enhance the patient experience, Forest Park San Antonio offers an environment conducive to faster healing."
Forest Park Medical Center San Antonio is located at 5510 Presidio Parkway in northwest San Antonio. Dallas-based Neal Richards Group developed the hospital property, medical office building and parking garage. Other project team members include Vibrant Healthcare, managing partner, and Rogers-O'Brien, general contractor.
The hospital is targeting U.S. Green Building Council LEED gold certification.
About BOKA Powell
BOKA Powell is a nationally recognized architectural design, planning and interior design firm, with office locations in Dallas, Fort Worth and Austin, TX. BOKA Powell's areas of focus include health care, hospitality, commercial office, higher education, multi-family and mixed use planning and design. Other recent BOKA Powell health care projects include Forest Park Medical Center in Frisco, Texas, Methodist Hospital for Surgery in Addison, and the Hatcher Station Village clinic for Parkland Health and Hospital System in Dallas. http://www.bokapowell.com.
About Neal Richards Group
The Neal Richards Group is a client-focused real estate development firm that provides highly integrated and experienced project management services; strategic development and management consulting; and real estate investment services for corporations, builders, investors and individuals. http://www.nealrichardsgroup.com
About Forest Park Medical Center:
Forest Park Medical Center, a physician-owned hospital system founded in 2009, currently operates state-of-the-art medical facilities in Dallas, Frisco, Southlake, Fort Worth and San Antonio, Texas focused on providing unsurpassed surgical specialty care. By focusing on specific key areas of surgery and a keen emphasis on the latest and most effective technology in medical care, Forest Park offers cost effective care for patients and their employers and an efficient way of practicing for its physicians. For more information, please visit http://www.forestparkmedicalcenter.com.