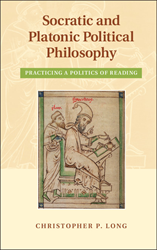 "Compelling and innovative.… [Long's] work invites us into collaborative reading with both Plato and the ongoing conversation of contemporary scholarship." —Marina McCoy, Boston College
New York, NY (PRWEB) December 17, 2014
Cambridge University Press has done something few publishers have done: publish an enhanced digital version of a monograph using the latest digital technology. The result is an enhanced e-book that represents a new way of reading politics.
Although academic publishers often adopt new technologies for textbooks and references books, they rarely take advantage of innovative technologies for monographs. Conversely, not all scholars embrace the latest technology to enable their research. Professor Christopher Long from Penn State University is different.
Long, a political philosopher and a tireless ambassador for the creative adoption of digital technology, approached the Press to publish his book, Socratic and Platonic Political Philosophy: Practicing a Politics of Reading. One of his requirements was that the Press also publish an enhanced digital version, for which the technology wasn't yet available. The author wanted to leverage new digital modes of communication to translate the dynamism of Socrates's politics of engagement in a digital age. Only a living digital book could do justice to the dialogues Plato's writing brings to life.
Long wanted researchers and students not just to read and understand his book, but to engage in active reading, which involves both thinking and responding, as in an ongoing conversation. The result is a new way of experiencing Platonic political writing, in which readers are called upon, in a personal way, to consider how a commitment to speaking the truth and acting toward justice can enrich our lives together.
With help from the author's institution, the Press worked to produce the enhanced digital book, which includes full-text HTML and annotative capabilities. Available through Cambridge Books Online (CBO), readers can now engage directly with the text, with the author, and with other readers. By logging into CBO readers gain access to the Cambridge Notes tool, which allows them to:

Save, update, and manipulate their notes online.
Engage in debate with Professor Long as notes can be sent directly to him.
Engage with other readers in a discussion forum on the author's blog.
Socratic and Platonic Political Philosophy represents a new way of reading. Please email publicity(at)cambridge(dot)org to request access to the book on our CBO platform for the purpose of review. We invite you to join the debate.
About Cambridge University Press
Cambridge University Press dates from 1534 and is part of the University of Cambridge. We further the University's mission by disseminating knowledge in the pursuit of education, learning and research at the highest international levels of excellence.
Playing a leading role in today's global market place, we have over 50 offices around the globe, and we distribute our products to nearly every country in the world.
Adam Levine
Media Associate, Cambridge University Press
212-337-5951 | 32 Avenue of the Americas, New York, NY 10013
Visit our blog: http://www.cambridgeblog.org/
Facebook: http://www.facebook.com/CUPAmericas
Twitter: @CambridgeUP_NY