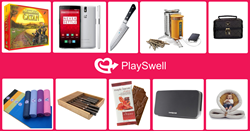 San Diego, CA (PRWEB) January 13, 2015
PlaySwell announces it has raised a $1M seed round from a mix of angels and institutional investors, including WI Harper, Crosslink, New Atlantic Ventures, and Artiman. The team includes several distinguished startup veterans and is led by Jordan Greenhall, who was the founding CEO of DivX.
PlaySwell's mission is to build a new online community where people showcase and share products they have discovered, that they think are special, important and awesome but may not get the attention they deserve. The PlaySwell Alpha site has already attracted an interesting catalogue of high-quality everyday consumer goods, including everything from pocket knives, headphones and drones to music, books, movies, kids toys, specialty foods, and purses. What holds them all together is that all of the products are both, made by people who clearly care about their craft, and sponsored by a member of the community.
"We're seeing something remarkable unfold as the same trends that disrupted music and video are now playing out in consumer-goods. Imagine if there were a place online where people came together to share their wisdom. Where honesty and lived expertise was the standard. The best stuff would rise to the surface and the market would reward care and quality over manipulation," said Greenhall, "It should be that Facebook, Pinterest, Twitter, etc., would be the places where this kind of sharing and discovery take place, but they have all dropped the ball. This is because these large players prioritize advertising revenue over the actual quality of the things promoted on their platforms... we are taking a different approach."
As the social media landscape becomes increasingly dominated by advertising dollars, the rule is becoming: if you don't have the means to buy an audience, you will get lost in the noise. This is true even for extraordinary products that are deeply loved by aficionados. It doesn't have to be that way. The PlaySwell vision is a world where people help each other and advertising is a fading memory from an unfortunate period of history.
About PlaySwell
Headquartered in San Diego, CA, PlaySwell is a new online community where people showcase and share products they think deserve to be better known. These are things like music, books, movies, gadgets, and specialty foods made by caring manufactures, makers and craftspeople. For more information, please visit http://www.playswell.com.