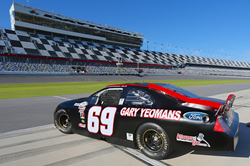 (PRWEB) December 16, 2014
Lira Motorsports is excited to welcome new crew chief Teddy Brown to the team for 2015. Brown is a veteran crew chief with years of experience and success in the ARCA Racing Series.
"As crew chief for Lira Motorsports I plan to bring together a team that will compete for top 10's, top fives, poles and victories," Brown said. "With the equipment and cars that Lira Motorsports is acquiring and updating, I feel that Lira Motorsports will be a threat week in and week out in 2015."
Brown's first major duty as new crew chief for Lira Motorsports comes this weekend at Daytona International Speedway, as the team heads to Daytona for ARCA testing.
"For our test at Daytona we have prepared two Ford superspeedway cars," Brown said. "Our goal is to learn what it is going to take aero-wise to get the most speed out of each car."
Brown's experience and track record in the ARCA Racing Series is impressive. In the last three years, he has scored 32 top fives and 45 top 10's and he has several marquis victories to his name.
"I would have to say that the ARCA win at Pocono this year with Justin Allison was tremendously special for me and my guys," Brown said. "It meant a lot to get a third generation Allison a victory since the late Davey Allison won an ARCA race in 1985. Some other great victories of recent would be while I was with Venturini Motorsports and drivers like Alex Bowman, Kevin Swindell, and Brennan Poole."
In addition to his experience in ARCA, Brown also spent some time in the NASCAR Busch Series (now NASCAR Xfinity Series) as crew chief for the legendary Dick Trickle.
"By far the driver that influenced me the most was the late Dick Trickle," Brown said. "The years we worked together in the NASCAR Busch Series helped set my foundation in racing. While we were together we had two wins and four poles, but most importantly he taught me how to enjoy life and racing."
ARCA testing at Daytona International Speedway is scheduled for December 19 – 20, 2014. The first session begins at 9:00 AM ET on Friday morning. For Live Timing and Scoring visit http://www.arcaracing.com.