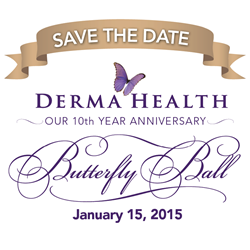 ...Our customers are absolutely everything. Our Butterfly Ball is one way of thanking you all."
Phoenix, AZ (PRWEB) December 18, 2014
Ten years ago, a confident but nervous Trish Gulbranson opened her first small medical spa in the Valley with two core beliefs: true beauty is an inside job, and people--clients and employees--are everything.
She then set to work hiring great people who shared her beliefs. They offered only the best cosmetic treatments that worked in harmony with healthy, natural ways for women to exude their inner beauty as well as their outer beauty. Trish believes you cannot have one without the other.
Today, with five offices in the Metropolitan Phoenix area and a track record that actually improved during the Great Recession, Derma Health has become the nation's second-largest provider of Botox in the nation and has an ever-growing base of loyal clients.
On Jan. 15, 2015, Derma Health will celebrate its 10th anniversary with a symbolic, Exclusive Butterfly Ball from 5:30 p.m. to 8 p.m. at the Watershed, 5250 S. Lakeshore Drive in Tempe. Described as a "purple wonderland," appetizers and cocktails will be served, and $5,000 in prizes will be given away to the people in attendance. This event is centered around the butterfly, which symbolizes the transformation women can make when they work on both their inner and outer beauty.
"We know that women want quick and effective outcomes to looking great, but our philosophy remains that real beauty starts from the inside through good nutrition and exercise," says Trish.
The belief no longer is hers alone. With more than 30,000 clients and counting, Derma Health has been on the INC. 5,000 list of fastest-growing companies in the nation three years in a row and has become the #2 provider of Botox and facial fillers in the nation.
In almost all respects, Derma Health is not a typical medical spa. Their laser skin and health centers in the Valley are staffed with full-time, onsite medical doctors and professional staff. The clinics include naturopathic medical doctors, one cosmetic surgeon, nurses, medical assistants and laser certified aestheticians.
They specialize in FDA-approved, non- and minimally-invasive treatments for creating beautiful skin. At the same time, they provide natural ways to improve health, with an emphasis on avoiding heart disease, which is the number one killer in women, through nutrition and exercise.
"We've done many things right in the past 10 years, and we've made our share of mistakes along the way," Trish says. "But we've never, ever lost focus: beauty begins on the inside, and our customers are absolutely everything. Our Butterfly Ball is one way of thanking you all."