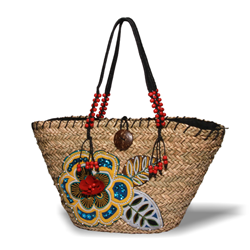 Gifts for anyone that enjoys warm weather travel and vacations.
San Francisco, California (PRWEB) December 19, 2014
With holiday shopping in full swing, SolEscapes' offering of stylish, high quality warm weather travel products makes excellent gifts. SolEscapes has a special offer, all products in the Holiday Gift Shop are 25% off now until December 21 using code gifts.
Choosing gifts can be a challenge, but with the right angle, it becomes a pleasure. For anyone that enjoys vacationing in a warm locale; be it a beach house, a tropical cruise, or an all-inclusive resort, a gift from SolEscapes will be welcome. A fashionable sun hat, beach travel towel, beach tote bag or resort jewelry all make thoughtful gifts.
SolEscapes Holiday Gift Shop has a carefully curated selection of beautiful products that will make wonderful gifts for anyone that enjoys traveling in warm, tropical locales. SolEscapes specializes in stylish sun protection products as well as accessories designed for resort, cruise and beach travel.
The special 25% discount with code "gifts" on SolEscapes' Holiday Gift Shop items makes gift giving even better. Here are a few ideas for the perfect gift for the warm weather traveler:
Pacific Grove Raffia Sun Hat. This fedora style sun hat has a subtle gold belt trim, making it a great fit for a resort getaway. It's packable and has a 3" brim. $45 by Physician Endorsed.
Riviera Tote Bag. A sophisticated tote bag is useful while on vacation and beyond. In black, the Riviera Tote is easy to coordinate. Its gold chain handle adds a classy touch while the raffia material gives it texture and character. $89 by Global Glamour.
Travel Lux Microfiber Beach and Pool Towel. Anyone going on a beach or pool oriented vacation will appreciate having a travel beach towel. These travel towels are oversized; larger than the average beach towel. Yet they fold up small, so they easily fit into a beach bag. $69 by SolEscapes.
Coco Cabana Leather Bracelet. Stacking bracelets are on trend right now, and the Coco Cabana collection makes it easy with coordinating beaded bracelets. The leather accents, gold touches and a sweet starfish charm make these bracelets a thoughtful gift. $37 by SolEscapes.
San Remo Sun Hat. Resort glamour is easily attained with this gorgeous sun hat. Its large 5" brim not only looks sophisticated, but also provides excellent sun protection. The bamboo and gold trim is beautifully unique. In black or white, this hat makes an excellent addition to a resort wardrobe. $60 by Gottex.
Many will appreciate gifts from SolEscapes. Anyone with a winter getaway on the horizon, or perhaps they take an annual summer beach vacation, or anyone that prioritizes spending time in warm weather spots, with stylish sun protection. SolEscapes Holiday Gift Shop is a great answer to the gift giving question, and the 25% discount using code "gifts" makes it even better.
SolEscapes is a California-based online boutique offering a unique selection of stylish and practical sun, beach, and resort essentials for all warm weather needs. SolEscapes offers personalized service, high quality products and fast, affordable shipping. Merchandise, including all sun hats, is carefully and beautifully packaged to ensure a perfect arrival. For more information, please visit SolEscapes.com. You can also connect with SolEscapes on Facebook, Instagram, Twitter, and Pinterest.