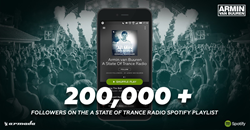 With already 1.2 million Spotify followers, Armin van Buuren closes in on One Direction as most-played artist on Spotify.
New York, NY (PRWEB) December 17, 2014
Yesterday, the world's biggest electronic dance music (EDM) DJ and producer, Armin van Buuren, became the second most-streamed artist on Spotify with his 'A State of Trance' (ASOT) playlist, exceeding 200,000 followers. It is a feat topped only by one other artist, the pop super-group, One Direction, which had 235,000 followers at press time.
Twenty-fourteen saw many firsts for Armin, a prolific artist whose worldwide hit, "This Is What It Feels Like" (Armada Music) featuring Trevor Guthrie earned a coveted GRAMMY® nomination and was certified Gold in the U.S., as well as Platinum, Gold and Silver in numerous countries around the globe. Armin's own Spotify channel surpassed 1 million followers and currently stands at 1.2 million followers (as of press time) with no slowing down anticipated.
Armada Music, the label Armin co-founded with Maykel Piron and David Lewis, continues discovering and signing the best talent and releasing immensely popular dance music, including Armin's Anthems: Ultimate Singles Collected. The year witnessed Armin regain his "top three" spot in the annual DJ Magazine poll -- the "#1" spot having been held by Armin an unprecedented five times -- as well as a nomination for SiriusXM Radio's Lifetime Achievement Award alongside AC/DC, The Allman Brothers Band, Taylor Swift, Pitbull, Kenny Chesney, Mary J. Blige and Tom Petty.
The year also marked the end of Armin's wildly successful "Armin Only: Intense" world tour, but with Armin more creatively fueled than he's ever felt, the time feels more like a beginning.
Armin has often been quoted in the media as predicting that the future of music consumption will be based on the streaming model, and he was one of the first artists to fully embrace the platform with his own ASOT radio show. The show brings to listeners the many releases from Armada Music and beyond. Fans from the U.S./North America and around the world are already eagerly awaiting what Armin has in store for 2015.
Listen to Armin van Buuren's 'A State of Trance' playlist on Spotify: http://bit.ly/1oO5AVI
For more information on Armin van Buuren, Armada Music and more, contact EMILY TAN Media Relations (U.S./North America), +1(917) 318-3758, EmilyEmilyTan(at)aol(dot)com and visit http://www.ARMINvanBuuren.com. Follow EMILY TAN Media Relations on Twitter @EmilyEmilyTan.
# # #