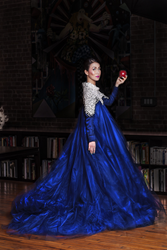 I value my collaboration with The Chic Index as an art project, informed by my fascination with the relationship between style and substance.
New York (PRWEB) December 17, 2014
CHINA HAPPENINGS™ is pleased to announce that its founder Chiu-Ti Jansen appears in a featured profile of The Chic Index, a subscription-based blog dedicated to the individuals with distinctive styles. The series, consisting of portraits and corresponding interviews, includes 15 looks and will appear in 15 separate installments. A link to the profile's main page is attached: http://thechicindex.com.
Edited by Iké Udé and launched in April 2011, The Chic Index: a Curated Survey of Stylish Individuals is a global survey of individuals with distinct individualized styles to be celebrated and rated accordingly by interactive audience participation. Published as a part of the aRUDE Magazine, also founded by Iké Udé, The Chic Index has gained a following among the fashion and art savvies for its highly stylized representations of individual styles, as well as candid interviews of the profiled subjects about each individual look.
The 15 looks of Chiu-Ti Jansen, starting with "An Allegory of Knowledge" (http://thechicindex.com/special-guest-interview-chiu-ti-jansen-talks-about-her-1st-outfit-1-in-15-acts-with-introduction/) capture her favorite outfits and accessories for different seasons and occasions. They represent moments of revelation and concealment in her acts of dressing.
Chiu-Ti Jansen, who serves on the Board of the Couture Council of Museum at the Fashion Institute of Technology, commented: "I love contrasts and paradoxes, because they are the appropriate reflections of many contradictions within me and our contemporary life. Working with Iké allows me to articulate the beauty of these contradictions. I value my collaboration with The Chic Index as an art project, not polite society portraiture. These looks are informed by my fascination with the (often uneasy) relationship between appearance and reality, between surface and depth, and between style and substance. I think my way of dressing stems from my unique point-of-view: neither my clothes nor I fit into any stereotypical classification."
The Chic Index's editor Iké Udé wrote in his introduction: "Fragility and steeliness is a rare combination. More rarer yet, when such qualities are embodied, personified and made manifest with such sartorial magnificence in an individual as Chiu-Ti Jansen. Chiu-Ti's style and sartorial sensibility are by turns chromatically intense, vivacious, dramatic, whimsical, and winningly dainty—occasionally some of her ensembles seems a wink or nod to the avant-garde fashion or bohemia attitude."
CHINA HAPPENINGS™
CHINA HAPPENINGS™ is a multimedia platform founded by Chiu-Ti Jansen that focuses on the lifestyle and cultural industries in contemporary China. Ms. Jansen is a TV presenter, a lifestyle magazine publisher and a writer based in New York City with a pulse on China. She hosts TV and video presentations on fashion and style for Phoenix TV, Phoenix Fashion and SINA Fashion, and writes a blog titled CHINESE ELEMENTS for international auction house Sotheby's and a fashion and style column titled NEW YORK IN STYLE for the Financial Times' Chinese edition.
Ms. Jansen is also the Founder and Publisher of YUE Magazine, the first bilingual lifestyle magazine focusing on the unique luxury experiences in the US for affluent Chinese consumers. YUE publishes four issues a year and covers fashion, jewelry, watches, art, shopping, culture, fine dining, real estate and education, offering China's sophisticated readers a multi-faceted view and a better understanding of America's elite lifestyle.
Prior to founding CHINA HAPPENINGS, Ms. Jansen was a New York-based corporate partner of an international law firm. A native speaker and write of Mandarin Chinese, Ms. Jansen holds advanced degrees from Yale University and Columbia Law School and serves on the Board of the Couture Council of Museum at the Fashion Institute of Technology (FIT) and as the International Honorary Ambassador of the Lang Lang International Music Foundation. A regular on many best-dressed lists, Ms. Jansen is the subject of a recent Daily Fashion Report's dedicated profile:
http://blogger.lookonline.com/2014/06/the-social-graces-chiu-ti-jansen.html.
THE CHIC INDEX and aRUDE Magazine
The Chic Index is a conceptual extension of Style File, authored by Iké Udé, who is an artist, aesthete, writer and the founder of aRUDE magazine. Style File: the World's Most Elegantly Dressed, published by Harper Collins in 2008, is a remarkable volume that profiles more than 55 of the most influential arbiters of style in the world today. Included among the many notable designers, artists, and public figures are Diane von Furstenberg, Dita Von Teese, Isabella Blow, Carolina Herrera, Oscar de la Renta, Isabel and Ruben Toledo, Victoire de Castellane, Hamish Bowles, Amy Fine Collins, André Leon Talley, Oscar de la Renta, Francesco Clemente, John Galliano, Christian Louboutin, Lapo Elkann, Frédéric Malle, and many others.
As an artist, Udé's work is in the permanent collections of Solomon R. Guggenheim Museum, the Smithsonian Museum of Art, and in many private collections. He has been exhibited in various solo and group exhibitions and reviewed in The New Yorker, Art in America, Flash Art, The New York Times. His articles on Fashion and art have been published in magazines and newspapers worldwide.
Udé has made the coveted Vanity Fair magazine's International Best Dress List, in 2009, 2012; Vanity Fair: A Blast of the Best 2013; Vanity Fair: The Top Ten Best Dressed Artists, 2013. He lives and works in New York City.
PRESS CONTACTS: info@chinahappenings.com
# # #